This page updated regularly. Last update: 9/6/23
(951)928-6625 email:oldwestaussies1@gmail.com
---
---
We have no puppies available at this time. Check back in late fall for information about possible puppies.

---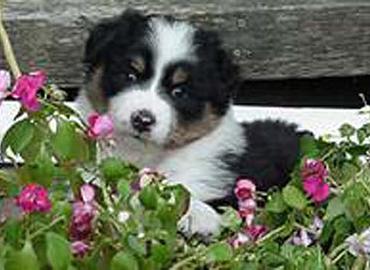 ---
OLD WEST puppy sales policy & prices
We proudly sell Aussie puppies that can be lifetime companions. We breed for puppies that are sound in both mind and body. We do not let our puppies leave until they are at least 7-8 weeks old so that they have had shots and have been wormed twice. We also spend a lot of time socializing and playing with our puppies so that they will leave here as well-adjusted family members. It is my goal to find permanent and happy homes for my puppies. My dogs are bred to the ASCA/AKC breed standard, which means they have docked tails and are standard sized, not miniature.
Please do your research on Australian Shepherds and make sure that you can provide the home that they will require. I have posted several websites on the LINKS page that provide a lot of information about Australian Shepherds, please check these out.
I prefer that my puppies go to homes with fenced yards and that your puppy will be an inside dog and live as a member of your family. I am very committed to finding permanent homes for my precious puppies.

Included with your puppy
All puppies will go to their Forever Homes with AKC & ASCA limited registration paperwork, puppy contract, Genetic Health Warranty per Puppy Contract, a blanket that smells like mommy, an initial supply of food, and complete medical record showing all dewormings and necessary vaccinations. All puppies have their eyes cleared by a licensed veterinary ophthalmologist between the ages of 6-8 weeks old.
Age of Spay/Neuter
Your Aussie must be spayed/neutered, per my contract, but females are not to be spayed before 12 months of age and males are not to be neutered before 18 months of age. You can find information about the reason for this on my LINKS page.
Shipping
I prefer buyers come to my home to pick up their puppy at 8 weeks of age. However, when this is not possible, shipping may be available for a fee of $800. This includes airfare, shipping crate, insurance for the value of the puppy and transport to Ontario International airport. Shipping fee must be paid no later than when the puppies turn 7 weeks of age. Shipping also depends on availability. Many airlines have stopped shipping dogs, so it is difficult to find flights.
Registration and prices
Price range: $1800-$2000
All puppies are sold with limited registration to approved homes as pets/companions with a spay/neuter contract in place. Limited registration allows for competition in agility, obedience, rally, lure coursing, barn hunt, scent work etc but does not allow you to show your puppy in conformation shows. The reason for this is because the sole purpose of conformation shows is to judge a dog's adherence to the breed standard to determine worthiness for breeding. This is also why spayed/neutered dogs cannot compete in conformation shows - there would be no point. Also any puppies produced from a limited registration would not be eligible for registration with AKC or ASCA. Exception to my Limited Registration Policy may be made for a select number of puppies should several qualifications be met by both the puppy and the buyer. The puppy would have to meet specific AKC/ASCA breed standard characteristics and exhibit potential for a successful show career. The potential buyer(s) would need to be actively involved in showing/breeding and have some level of experience in the breed in order to be approved for a breeding/show-quality puppy.
A puppy is not reserved unless you send a a $200 deposit to hold it. The deposit can be paid via cash or check, but the remaining amount must be paid in cash when you pick up your puppy. The deposit is non-refundable if you change your mind, but it can be applied to a future puppy.

Puppy Classes
All puppies should complete a 6-8 week puppy class prior to the age of 6 months. Please locate the training facility and instructor before your puppy comes home so that you can book the class to begin by the age of 4 months in order to be completed by 6 months.