2002 Testimonials from the happy owners
of OLD WEST
puppies
These are the testimonials and emails from previous puppy buyers. We LOVE to hear about our puppies in their new homes. IF you have an Old West puppy and would like to let us know how he or she is doing, please email us. We love seeing pictures of our kids as they grow up with their new families. Please click on the year at the bottom on this page for testimonials from each year.
---
12/30/02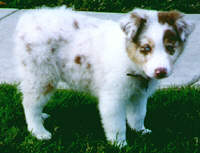 Dear John & Kitsy,
Just a note to let you know that Abbey continues to delight us. She has really enjoyed having our family around during the holidays. She is such a social little puppy. We have heard many times that she is the cutest puppy people have ever seen. We tend to agree. Enclosed are pictures to prove it.
Hope your holidays were nice.
Eric & Marci Slater
---
11/29/02
Hi Kitsy! We could not be happier with Dijeridoo! He's just over a year and makes Nicky and I happier every day. He is the star of his training classes, and we went herding for the 1st time this week where he did GREAT! Thank you so much for such a wonderful companion!
Chris & Nicky
---
11/29/02
Hi Kitsy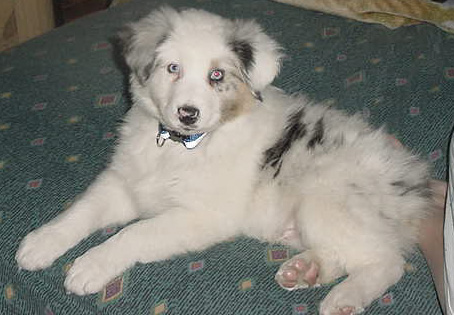 Well its been 2 weeks since we brought our little boy home..
We named him Chance. He is already crate trained. He sleeps from 9p.m. to 5a.m. He cannot possibly have anymore chew toys . If he does not find a chew toy he is after our toes... Ouch.. We took him to the Ranch to see how we would do with our Arab Horse and every natural instinct came out .. He stayed right with us on the trail and would not take his eyes of the horse.. Even at such a young age 9 weeks he knew his job .Then after a hard ride and went for his first swim in the creek.... We love him so much.... Thank you.. He also has learned to go in butt first with the cats... We will send pictures...
His eyes are still a beautiful blue... .
Christina Glass
---
11/25/02
"Just wanted to let you know that "Ben" is 10 weeks old and is an outstanding puppy. He is such a quick study. He's been bringing in the morning newspaper every day without shredding it! He's the hit of his puppy class and is just plain fun. We couldn't be happier. Thanks for breeding such a nice litter.
Vicki, JF and Jeff Ernenwein"
---
11/16/02

"Hi Kitsy!
Here are a couple of pics of Presley's first day at home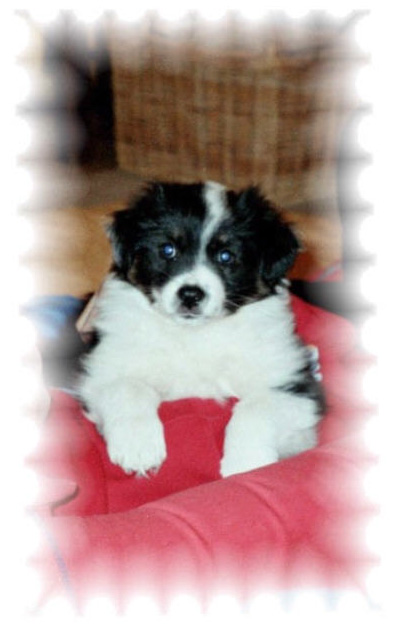 with us after the 5 hour drive from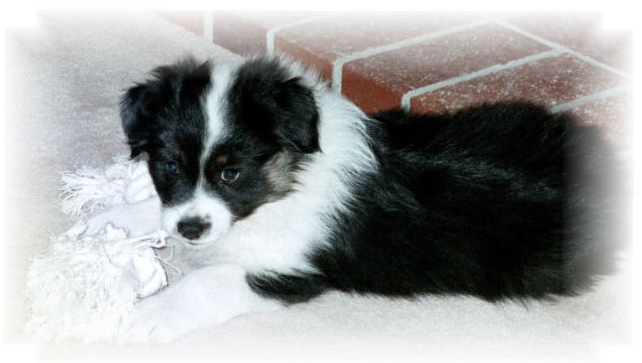 Southern Cal to get her. She is almost 8 wks.

She is an extremely quick learner knowing how to "sit", "down", and "rollover" after training for about 8 minutes each on the tasks during a 2 day period. Her latest thing is to come running at us full speed while we are sitting on the floor and at the last minute throw herself into our laps (rear end first) trusting us to catch her. She probably thinks that we will keep catching her like that when she is full grown! Uh-oh!
What a great pup!
Thanks again!
Jodeene"

---
11/14/02

"Abbey is doing so well! She is the perfect pup and everyone is in love with her. She got an A+ from our vet yesterday and we have the name of a vet ophthalmologist here who can clear her eyes. Abbey is so smart. already crate trained and no inside "accidents"! She has been coming to school with me this week and the second graders are socializing her. She even does recess duty with me. Eric and I are absolutely in love with her! Our four cats even like her. Thanks so much for Abbey. We will keep in touch.
Marci and Eric Slater"
---
11/14/02
"
Hi Kitsy, we named him "Tucker".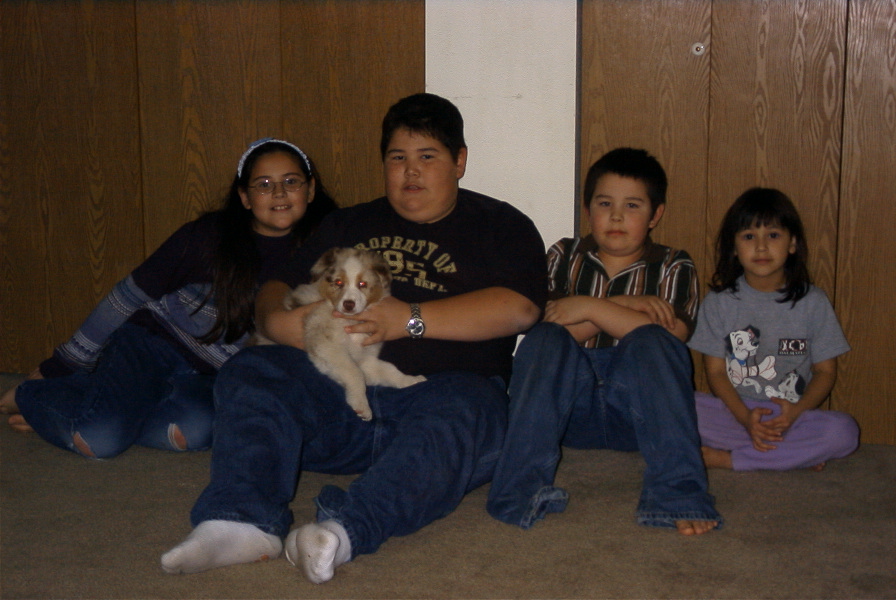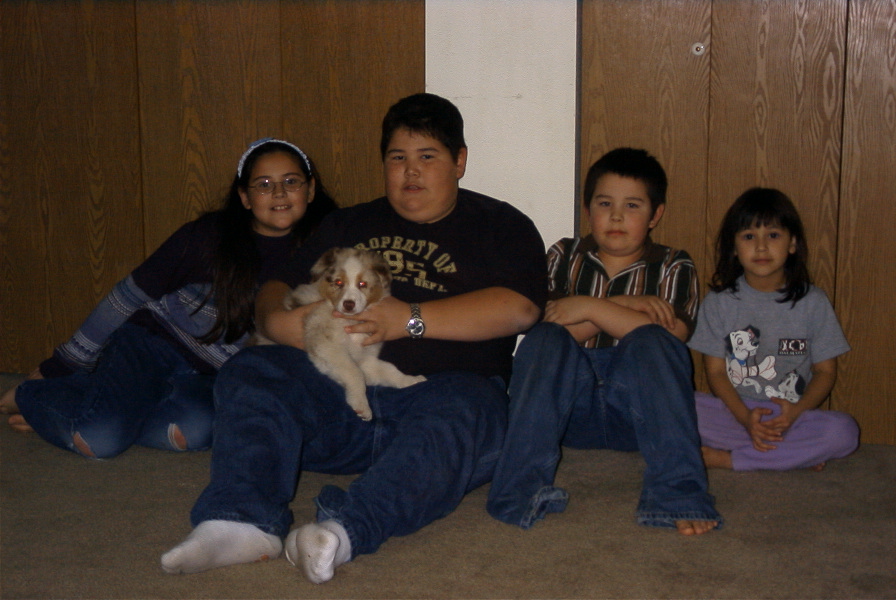 We think it fits. He is just a wonderful little guy. He likes the cold weather and is getting all the attention he can stand! I'll be sending pics occasionally. Thanks,
regards, Dan and family"

---
11/11/02

"Hi Kitsy, here's a couple pictures of mika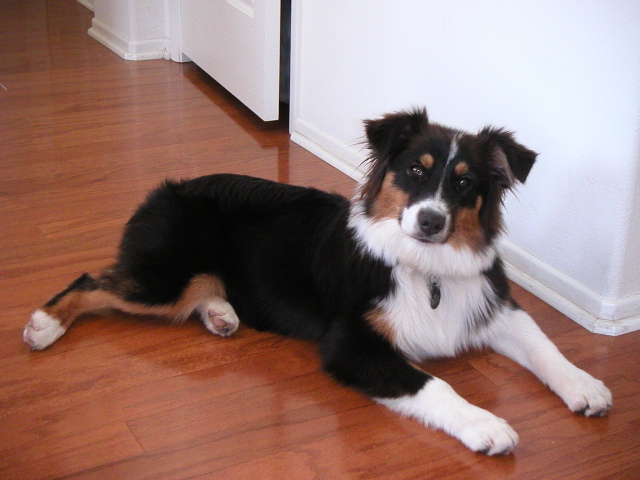 (one of the girls from Cisco x patches 2/21/02). She's about 6.5 months in these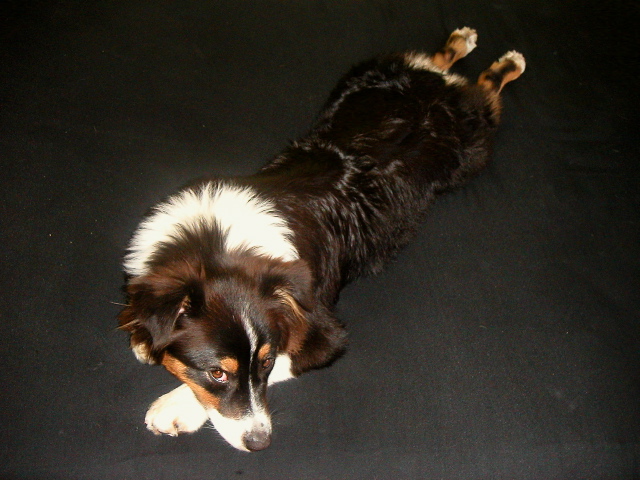 pictures. She's a great puppy and Kathryn and I are enjoying her company immensely.
Thanks again!
David Watkins"
---
11/10/02
"Hi Kitsy!
Just a note to let you know that "Presley" (as in Elvis, my daughter's idea) is adjusting well to her new home. She was a really good girl on the ride home.
She is becoming very active and has the cutest personality. She has acquired a lot of chew toys, but prefers our slippers (can't get them out of site fast enough) and paper. Our relatives in the area want us to bring her over for Thanksgiving and Christmas dinners. They think she is just adorable!
Thank you for doing such a great job socializing her. She is such a sweet puppy. She has seen the vet this week to get acquainted and will continue w/ her shots.
Have you ever thought of adding a "Testimonial" page from happy clients to your site? We found that to help clients who were at our web hosting company....people are still rather skeptical about this "whole Internet thing". But your site is user friendly and frequently updated and it would be nice to see how the other pups are doing...just a thought....
Hope your show went well!
~jodeene (hope to send pics soon)"
---
11/8/02
"Kitsy,
Here's a picture of Rusty at about eight months. He doing really good and he's just been a fun dog. He's still the star pupil in the agility class, I think he's going to be awesome... Naci"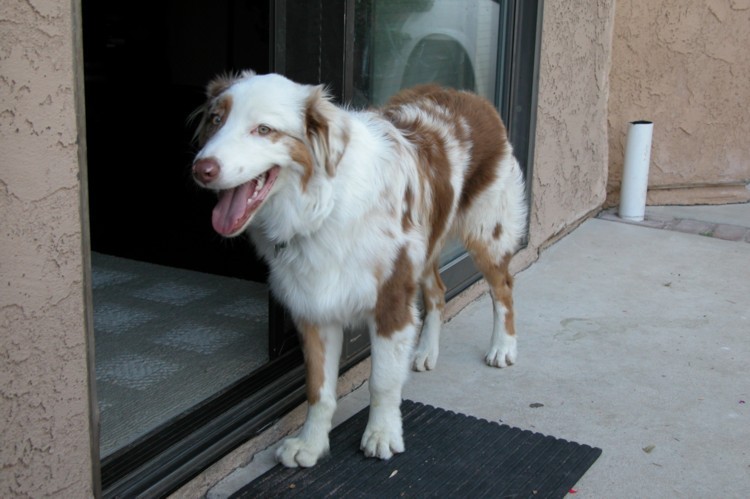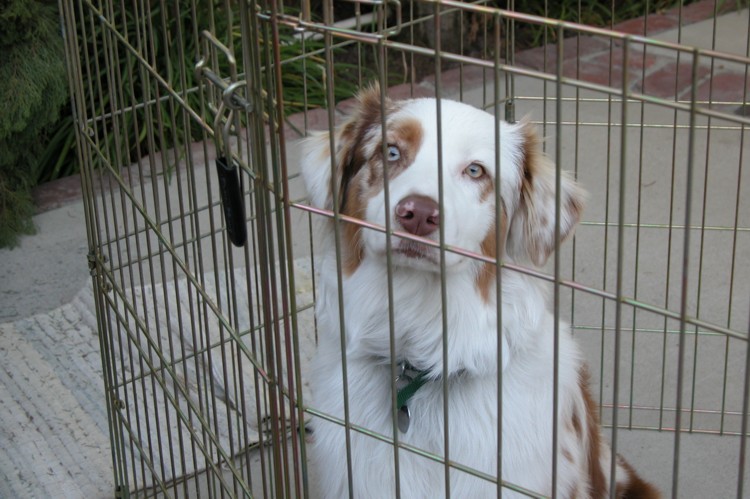 ---
10/25/02
"Kitsy,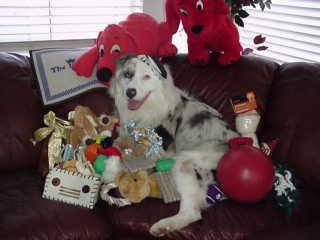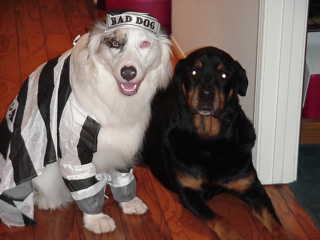 We celebrated Toby's First birthday October 13th. We all had a blast. I just wanted to thank you again for the wonderful new member to our family. He is loved by all who meet him and Jeremy our Rott protects him from all harm, especially on their walks. I am sending 2 photos, one with most of his birthday presents and the other with the costume my mom bought him for Halloween.Cathie and Rod Lumpkin"



---
10/13/02

"Hi Kitsy,
I can't believe Misty is a year old today. I've been very remiss in the correspondence department. We just love her. She is full of life and spirit, a true Aussie. She is the cutest dog ever (are we slightly prejudiced?) We still visit our dog park daily and she is the darling of everyone. Misty greets every person with a huge wiggle and nuzzle and then moves on to the dogs. She herds all the other dogs and is fearless. She takes down the big labs and has even managed to roll Dazzle, the 110 pound Great Dane puppy. We just weighed her today and she is all of 35 pounds. She is beautifully petite and her markings are quite spectacular, especially around her eyes. She is incredibly fast and agile. She has more confidence than any dog I've ever known. We have our moments of deciding who is the pack leader but so far she eventually accepts that we are in charge. She has given us such joy, thanks.
Pat and Al McCready"
---
8/4/02

"Hi Kitsy and Partner,
I am sorry its been so long since I have updated you on the progress of Sadie. She is almost 8 years old. She is perfect in every way. When I see the pictures of Partner she is almost exactly the same in marking. I will never be able to tell you how great a dog she is...she turns heads. She is perfect, and what a personality.
I hope all is well with your gang .
---
3/7/02

"I was just checking out the pictures of Sydney's brother Scout and thinking how much they looked alike. Sydney is doing great she has 45 pounds has passed novice obedience, is two skills away from obtaining her Good Citizenship papers and is enrolled in an agility class in Glendora.

She has not been the handful you predicted. She likes water, catching a frisbee but not bringing it back and sneaking food from all sources.
Leslie"
---
3/6/02

"Hi guys! We love Dij so much! He is at the top of his puppy school and we get compliments all the time on what a happy and well mannered dog he is. Thank you again for breeding such amazing dogs! Attached is a picture of Dij enjoying the beach. Nicky"
---
2/5/02

"Hi Kitsey!
We just wanted to give you an update on the puppy. Our children decided to name her Christmas Holly. She's really doing great! Holly has a sweet personality and strong herding instinct. She attempts to herd the chickens, cats and children---all of which gets entertaining. Also, Holly is getting big; everyone keeps commenting on what a large puppy she is. The Aussies around here tend to be small and rather "fine boned". How much does Amanda weigh? We'll keep you posted...
Ross and Barbara Centanni"
---
1/2/02

"Hi Kitsy,
Happy New Year! Just thought I'd let you know that your boy cleaned up at the latest
trial over the holiday weekend. This was his first trial at the excellent level and he got 3 1sts, a
High In Class and a 2nd (by .3 sec).
If all goes well, we'll start working on his MACH by February so maybe someday you'll have an agility champion to add to your credits.
Separate of that, he now closes all of the drawers and cupboards around the house on command, cleans up his toys and knows about 20 tricks (thanks to our latest adventure - a clicks and tricks class).
We even tried a "dancing with your dog" workshop - but that's not really my style plus I'm not very graceful.
Still working on Dennis to ok a little brother/sister for Token. Wish we lived a bit closer, would love to stop by and say hi sometime - till then take care!
Love my dog,
Andrea"