2010 Testimonials from the happy owners
of OLD WEST
puppies
These are the testimonials and emails from previous puppy buyers. We LOVE to hear about our puppies in their new homes. IF you have an Old West puppy and would like to let us know how he or she is doing, please email us. We love seeing pictures of our kids as they grow up with their new families. Please click on the year at the bottom on this page for testimonials from each year.
---
11/3/10
Dear Kitsy,
Itís been awhile and I want to let you know how well Destry is doing. Destry is from the 2007 breeding of Wrangler and Feathers. He is just a wonderful and loving companion dog. From the first day we brought him home he just fit in with our other two dogs. He is definitely a social dog that enjoys the companionship of both people and other dogs. With that said, he very much my dog and does not go far from my sight.
He is beautiful, intelligent and vivacious. What ever activity he is introduced to, he is up for it. He loves to swim, play games, go sheep herding and enjoys long runs with my husband.
He has his CGC and we are working on getting titles in Obedience and Rally, but we did have a set back when I had to have surgery on my knee. We are now in the proofing stages of his training and will start showing in January.
I also started showing him in AKC Conformation. He has been in six shows and was getting Reserve Winner till two weeks ago when he got his first point. He won Winners Dog and Best of Winners. This weekend he got his 2nd point winning again Winners Dog and Best of Winners. Iíve attached the photo of his 1st win and few other photos of him.
Thanks so much. We just love having him in our family.
Best Wishes,
Gwen and Jim Fiorito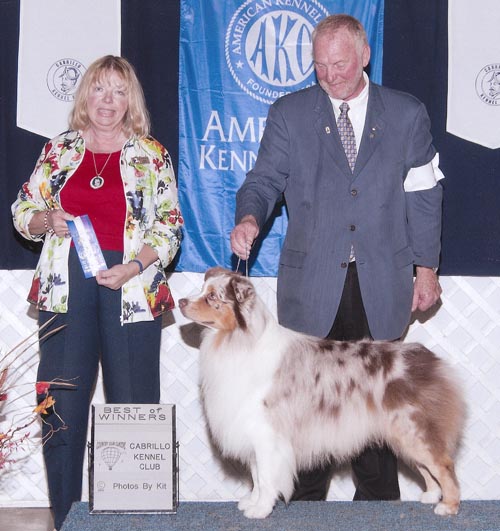 6/17/10
Hi Kitsy,
I was just checking your page out as I referred a friend to you yesterday, told them to check out your web site.
You new little addition Nikki is the most darling pup !!!!!
Teddy & Cody are doing great, had an hour and a hlf at the dog park yesterday. Teddy has become a dog that watches everything very carefully, wants all dogs to behave properly, especially his nephew. If any dogs, particularly little yappy ones misbehave, he goes right up and explaind park etiquette in whatever way dogs talk to one anothe, he will not tolerate mis-behaviour from Cody or others, he's kind of the park monitor.
He doesn't fight or pin them down, nothing physical, he just goes right up and stands over them like he is Cesar Milan and explains what is acceptable behavior. I love him to pieces, Cody has turned into a very sweet 2 and a half year old, although he still acts and plays as if he is 6 or 7 months.
Oh, another thing, Teddy discovered the joys of dog toys, and he loves it when Cody falls asleep with a toy near him, he approaches stealthily so as not to awaken the little monster steals his toy and silently tags it over to wherever his is lying down at the moment and puts his nice big leg and part of his chest down over it, basically weighs it down. He is a stealth toy grabber, but only from Cody. The dynamics between the two of them I love.
Cody thinks he knows everything, Teddy lets him think he does, and then SURPRISE.
I'll send you some new pictures after they get their next bath. When I walk them, not a walk goes by that someone doesn't stop me on the street and say "what beautiful dogs", and they are correct.
Thank you for 20 years of wonderful sweeties. I hope all is well with you and that you have a great summer.
lynn, Teddy & Cody
3/30/2010
Hey Kitsy,
Haven't sent you an update on Rusty (Partner x Cinder) in a pretty long time. This weekend Rusty and I took 1st place at the AKC agility nationals in the 16" Preferred Division!! This is the first time they had the Preferred Divisions at the Nationals, so Rusty is the first ever for 16"!! He is obviously aging quite well and he still acts like a puppy. Go Rusty Go!!!
Naci Berkoz
Youtube video: http://www.youtube.com/watch?v=7zRP28buzKE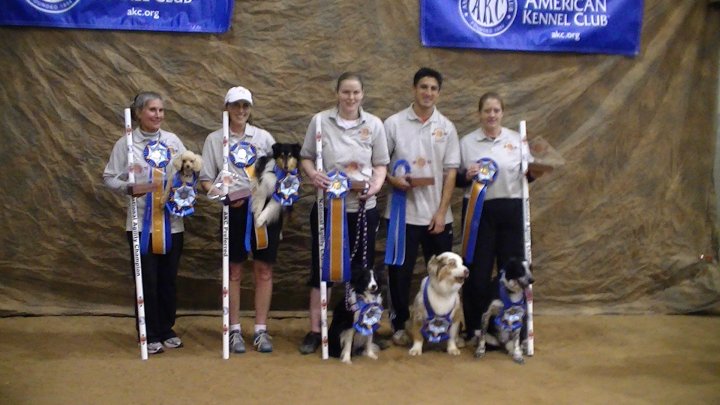 3/29/2010
Dear Kitsy & John Seveland, My name is Jeff Dodd. My wife Donna and I Bought an australian Shepherd pup from you back in 2001. We named her Tilly. Just to let you know she has been a big part of our lives. She has helped raise four of our children and now helps with two grandkids. She is a great watchdog.........Very protective! We live in northern california in the city of Eureka. Tilly is doing great!!! We love her and she loves us very much. These are several pictures I took yesterday.
Thanks again, Jeff Dodd
2/11/10
Hi Kitsy,

We hope that you are doing well! We were just checking out Bode's parents (Wrangler and Cinder) and decided that he takes after his dad. He is about the same weight and height as Wrangler. Bode was born 12/15/06, so he just turned 3. He loves going anywhere in the camper...especially the snow. His favorite games involve a chuck-it and tennis ball or a frisbee. We have so much fun with him! Sometimes he can be a wild man, but generally he is just a lover. We have been taking many hikes and he is awesome with the backpack - he loves having a job, and we love having a pack-mule. I included a few pictures... a couple have him with his summer haircut - I didn't know if this would be absolutely offensive to some purists, so I hesitated to include them, but decided that they showed us having fun and that is what really mattered :)

Thank you so much for such a great addition to our family!

Devin and Shana