Hi Kitsy,
Andillon (5-02-2016) is now 4months 1 week old. She weighs 25lbs and has absolute beautiful markings and very inquisitive. She's all legs right now and is expermenting with jumping out of her pen. Our 9 yr old Aussie (Sydney) is showing her the ropes. She is so smart she has figured out how to open the back door… .. She loves the water and prefers her wading pool to our actual pool. We start puppy classes at Cesar Millans DPC on Sept. 18th. I can't wait until she gets to chase the sheep, she currently is rounding up our grumpy yorkie who is not amused. I'm looking forward to her big girl bark, that high pitch sweak shakes the glass, lol. I have more toys and educational things for her then any dog I have ever had. She loves and needs the variety and textures and sounds. She removes them one at a time from her toy chest until the floor is covered and then she takes them to Sydney to share. It is a wonderful challenge having such an intelligent puppy.
Thank you again for such a perfect little girl (most of the time :).
Sincerely,
Sivelle Miramon Family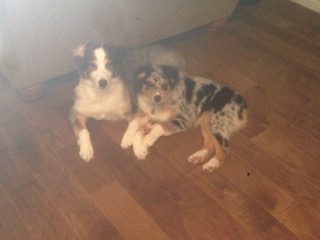 8/12/16
Hi Kitsy!
I just thought I would send some pics your way of River (since I have about 20,000 on my phone haha)! He had his last round of puppy shots so we are excited to be able to take him outside and play! He has so much energy and we are loving his little personality. He officially weighs 20.4 lbs and is getting harder and harder for me to hold!
We were able to get River and Zephyr, his brother, together once so far and are excited to have more play dates now that they can actually go outdoors! They loved seeing each other and having another puppy to play with (although they constantly fought over who was the more dominant pup!).
He is extremely smart and we are constantly amazed at how fast he picks things up. He already knows sit, stay, down, leave it, and shake. That's without puppy training classes so we are excited to see what else he will learn in the next few months. He sleeps through the night and is pretty much completely potty trained too!
Thank you so much for giving us such a wonderful pup. We are so in love with him!
Talk to you soon!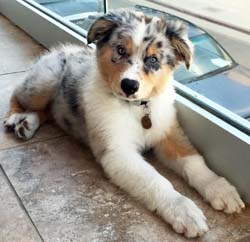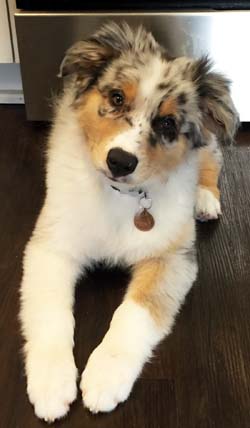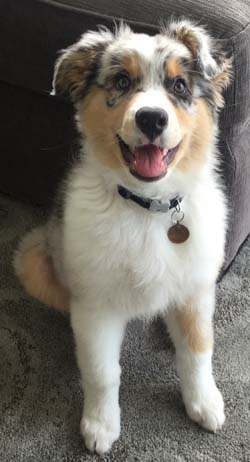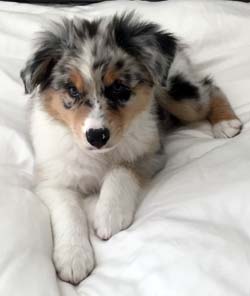 ---
8/5/16
Hi Kitsy: I wanted to catch you up on our wonderful aussies Mayday (Ransom x Bella 9/23/13) and Bill (Ransom x Loretta 11/26/13). You have their puppy portrait from 2014, and I wanted you to also have their "more adult" photo that was taken by the same photographer in Feb. 2016. As you can see, "little brother" Bill is now the big one! He has such a wonderful temperment, and he is such a good family dog. I've also attached a photo of "big sister" Mayday at a recent agility trial. She has excelled in everything I've asked her to do so far.............she's been showing for less than a year and is already well on her way to earning her first AKC Mach title. I only started showing her in USDAA in June, and we are qualified for the Cynosport World Games being held in Scottsdale, AZ this November. She absolutely LOVES running agility and always gives it her best 100%. If only I were as good as she is! I'll keep you posted on our progress. Have a great rest of your summer,
Vicki & JF Ernenwein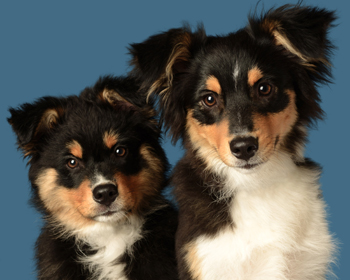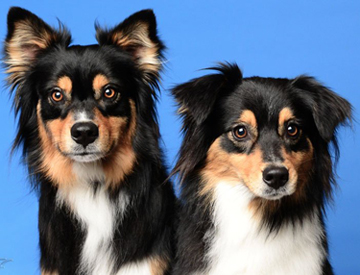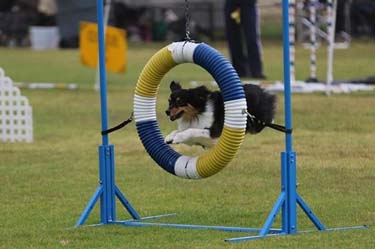 ---
7/21/16
Hi Kitsy!
Everything here is just Peachy! Our puppy Peachabella aka "Peachy" (Ransom & Jinx, 5/5/16) is such a great addition to our family. As you can see, she has been winning over our other 2 dogs with a regular onslaught of kisses! She has helped much in easing the pain of losing our other aussie Cinna. Peachy is affectionate, adventurous, playful and very much a handful of energy. What a joy!
We'll keep you updated on our progress with her.
Take care.
Anthony & Amy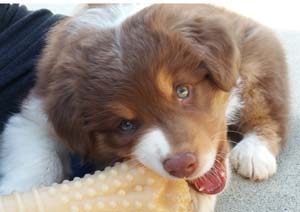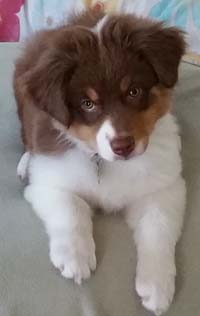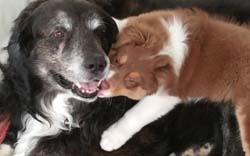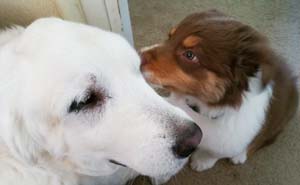 ---
7/18/16
Hi Kitsy
Ruger (Ransom/ Loretta 5/2016 )is weighing in at 17 lbs. A big love bug. He loves Teagan his sister (Ransom/Loretta 3/2015). I love having two young ones at the same time. Teagan is doing lots of training for me. Ruger eyes are just so interesting. A combination of Amber,brown and light blue. The Ulate family have Indigo and they all get together for playtime. Summer of Aussie's and lots of love.
Take care
Terri Glass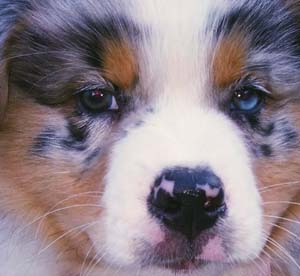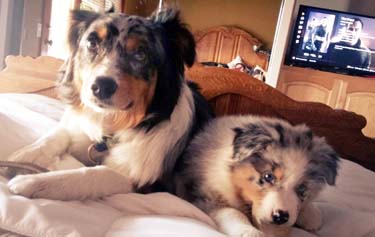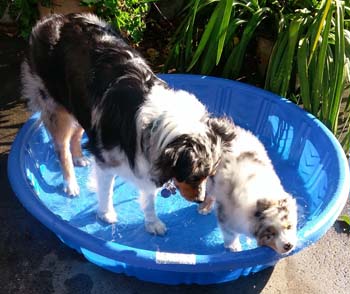 ---
7/12/16
Hi Kitsy! We wanted to send you a recent "10 week old" photo of Summit (Ransom X Primrose 5/5/16). He seems very happy like you said! He's doing very well adjusting to our home and family. He is very playful and has gained nearly 3 pounds already. He has his second round of shots and going to a puppy party on Sunday. Summit is well loved and a huge part of our family. We are so thrilled to have him here. We will continue to send you messages if you like. Be well! The Sarner Family. (Robin, Jason, Katin, & Dawson)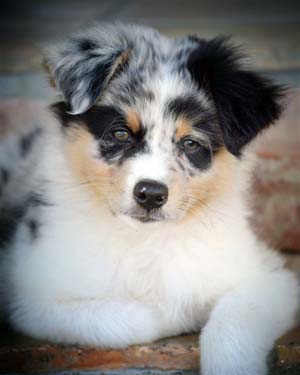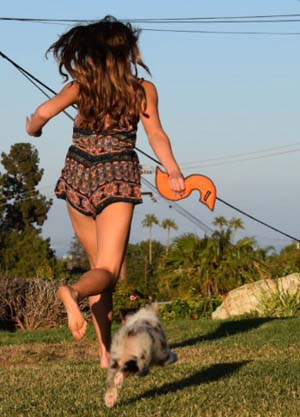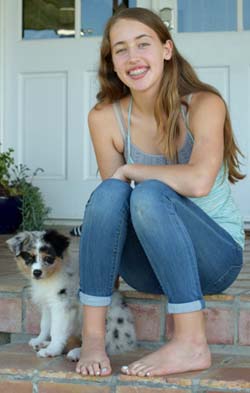 ---
7/10/16
Hi Kitsy,(Ransom X Primrose 5/5/16)
As promised, here are a few pics of our Karma @ 8 1/2 weeks. He totally moved in since day one and appears very happy. He is still very affectionate and loving. He enjoys playing in the back yard and, as you told us, whither we go, he wants to be there too! The vet told us not to take him out in the world until his parvo series is done, so we have not yet gone on any "field trips" with him. He has gained a pound and a half. His first experience with a collar was successful. Our house now looks like a nursery with dogie toys everywhere. He is pretty good at entertaining himself! I will continue to send pics every now and then! He sends his love,
Diane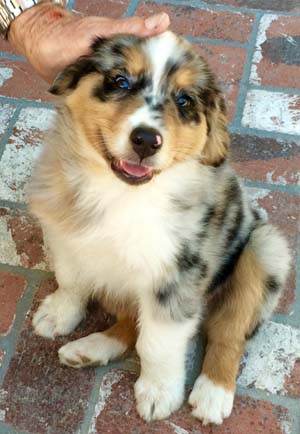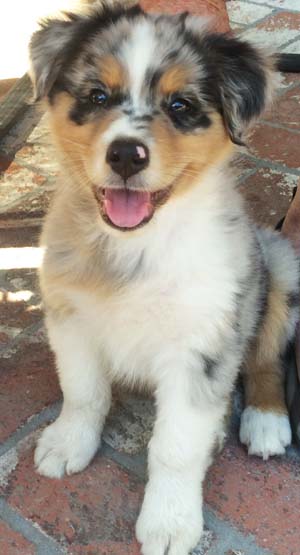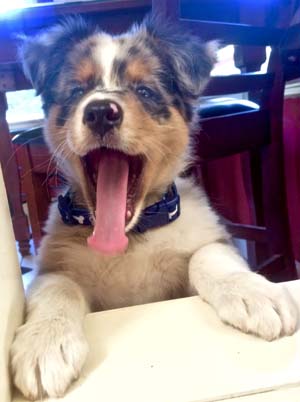 ---
7/8/16
Hi Kitsy,
This is our Annabel at just over a year old (April 27, 2015 Ransom and Primrose). She is our second Aussie from Old West. Our first Abigail is almost 14. Annabel has brought new life back to Abbey! They love each other and are so cute together. Both are amazing dogs and the center of our life! Thank you!
Eric and Marci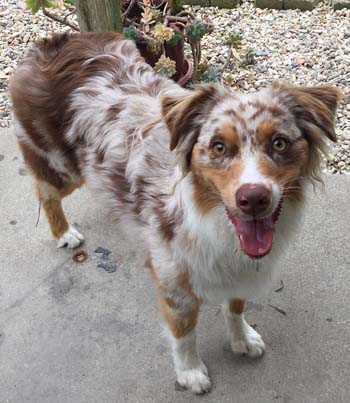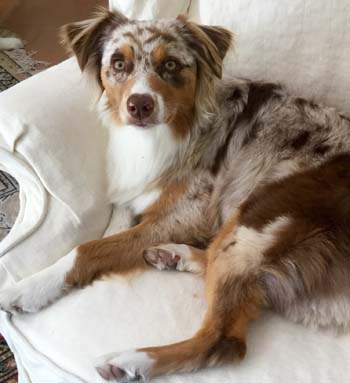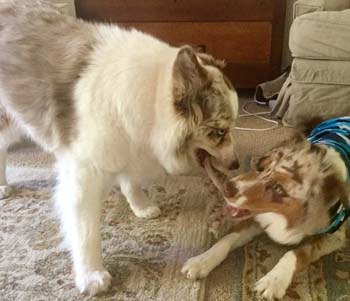 ---
7/7/16
Kitsy, (Ransom & Loretta 5-02-2016)
I can not imagine getting an Australian Shepherd from anyone else. This is my second Aussie, my first Old West. My blue merle Andillon is an amazing little girl. At 8 weeks she snuggled up and slept on the 2-½ hr. ride home. Within two days she knew to go to the back door to go potty. She loves playing in the grass and with the other dogs; her favorite is our Yorkie more so then our Australian Shepherd who will not play herd the dog game. She looks so much like the Anderson's Gracie. We also fed "Andi" the Blue Buffalo puppy food and had no problems. After only one week she goes to the back door to go potty outside. She sleeps 6-8 hours in her crate and plays in her pen inside and outside. She is curious about the pool but, we won't let her in until she is bigger. She is not afraid to play in the water when I'm gardening and slept threw July 4th noise while my other dogs couldn't calm down. Even my 60 lb Aussie jumped on the bed.
The vet said we have a healthy puppy just needed the usual deworm. She is now 10 weeks and she weighs 11lbs. Her nickname right now is "Tiny Typhoon" and we love every hectic second with her. We just accomplished the sit command. If only I could put a tooth guard on those sharp puppy teeth. Kitsy, you and your mom provided the puppies with such a loving, nurturing and educational environment we all have a wonderful foundation to raise a truly great family member. I have never had such a smart puppy and that doesn't just happen. We will update as our Typhoon grows.

Sivelle Miramon Family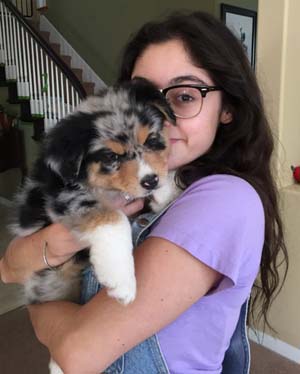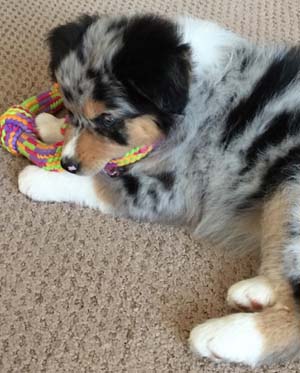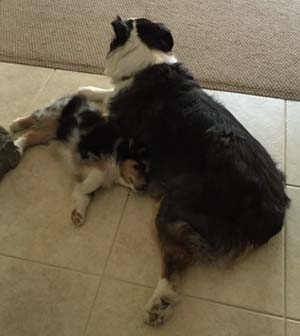 ---
7/2/16
HI Kitsy, (Ransom X Loretta & Jinx 5/16)
OH MY, they have definately settled in and found a place in our hearts and home!! They LOVE the AC, and tend to sleep on the tile floor by the front door. They have adventured in and around every square inch of the back yard.... not too sure of the pool, but we keep a very close eye on them. We have been very diligent in taking them out hourly so they adjust to the potty routine outside, I think they are doing great for so young. We have bought the Blue Buffalo Puppy food, and so far no dietary changes have been affected by it. They are eating well , and playing well.!!!! The Little red Merle we've called "Maggie", and she's toughened up and holds her own against the Blue, we've called "Gracie".... they tumble and play like crazy together. We both agreed we are so glad we got two......they can do the rough and tumble together and it leaves all the cuddling times to us. We have an appointment with our Vet on Friday for their next shots. Once again.... they are part of the family,and bringing us such Joy!!
Sincerely,
Celia and Bill Stevens
Be Loved!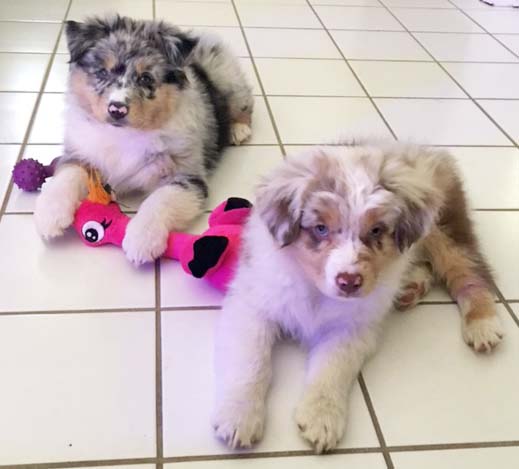 ---
7/2/16
Kitsy, (Ransom X Loretta 5/2/16)
Thank you so much for your email! I've been meaning to write you for a few days, but have passed out from playing with Indigo each night before I remembered. Indigo has been doing so well lately! The car ride home was a breeze--he slept through almost all of it. The first couple of days were tough for him--he was not a fan of the crate and he really seemed to be sad from missing his litter mates. Thankfully he's had Ruger, the Glass's puppy, and their dog Teagan to play with this past week--spending time with Ruger and Teagan helped cure his puppy blues right away! Indigo and Ruger will wrestle for hours on end.
My family and I are so in love with Indigo. My dad knows just how to get Indigo playing with all of his favorite toys and he loves cuddling with my mom. One thing I really wanted to share with you is how big of a fan of water he is--he could spend all day rolling around in his puppy pool and the puppy pool at the Glass's house when he's over for a visit. He's such a playful puppy and is very expressive. He likes to knock over his food bowl on occasion and look at us as if he's saying, "I didn't do it, I promise!" That's a habit we're working on among other things that can make us a little crazy, but we love him nonetheless. He's sleeping so well in the crate now, even as I write this email!
I've attached a few pictures of him. I'll make sure to get some pictures of him in the pool next time so I can send them to you! Thank you so much for this wonderful little puppy!
~Stefanie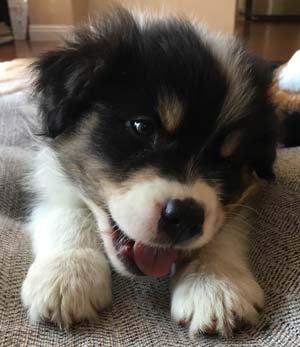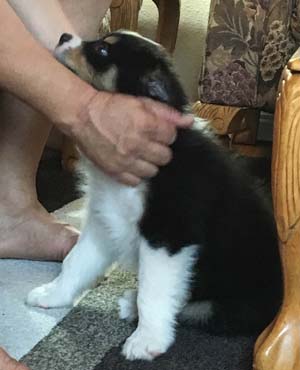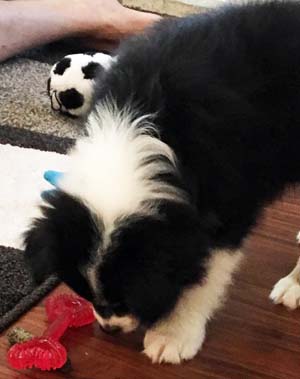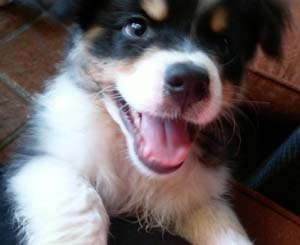 ---
7/2/16
Kitsy (Ransom X Primrose 5/5/16)
He is awesome. The ride went really good. A lot of whining at first on the ride then he quieted down. He is adjusting just fine and seems to love the kids. Every thing couldn't have checked out better at the vet too. They wanted to keep him. I've got him signed up for a puppy class that starts in a few weeks and I'm really excited for that. We are very grateful for the puppy you have provided us with. The packet that came with him was awesome. He is really good about going potty outside too. We have had a couple accidents but those were our fault and could have been prevented. The cats warmed up to him after a few days and they are getting along really good now. He is doing pretty good with the whole crate thing too. The first two nights he didn't like it but now he's sleeping good in it. We only use it at night. I filled out all his akc stuff online and that couldn't have gone smoother. We gave him the name Old West Rocko. I will get the other papers fill out in a few weeks once his eye color is certain. Again thank you very much for him. I will send you some more pics once he gets a little bigger.
Ryan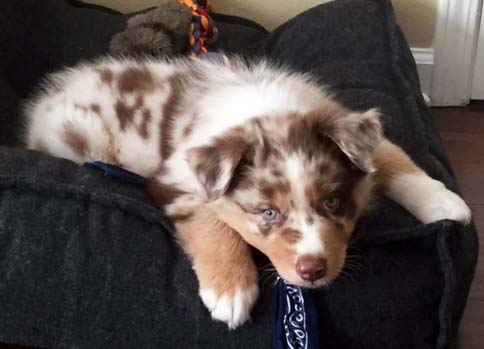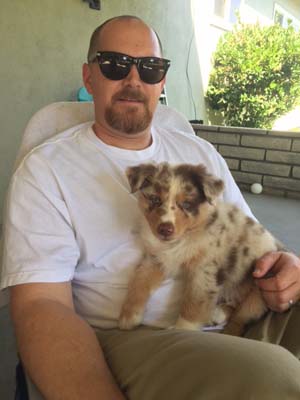 ---
6/30/16
Hi Kitsy, (Ransom x Primrose 5/5/16)
First of all, thank you so much for the amazing, gorgeous, uber intelligent and sweet little girl!!! She's really doing great, can sit and come, loves to run and play in the backyard, is learning to respect the cat Pounce and got an A+ from her vet this week. We are having so much fun and really could not have imagined a more amazing little girl. We named her Old West Midnight Star but we call her Ruby. Totally fits her and her sparkling personality.
Secondly, did you find my glasses at your house? I'm attaching a couple of photos.... from the day we picked up Ruby (I'm wearing the lost glasses in this photo) and one from yesterday. Anyway, if you find/found them, I will send you the postage. Thanks!
Best regards and love,
Ruby, Mary and Brian
PS....Ruby's FAVORITE toy is the squirrel you gave her. It is the BEST!!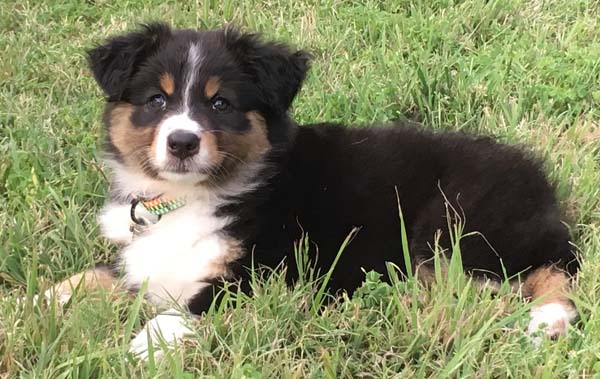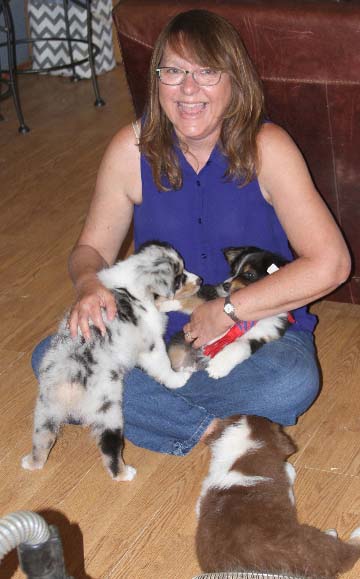 ---
6/26/16
Hi Kitsy!(Ransom x Jinx 5/5/16)
Zephyr is doing great! Taking to training very quickly. His first time going potty was on his pad, and he knows that he'll be rewarded if he goes in the right place. The drive home was easy, no sickness. He slept nearly the whole time. He only woke up twice last night to tell us it was potty time. We took him out and he went right away. He knew exactly what to do! He loves his puppy toys and is learning how to play fetch already. He loves his sleep, but when it's time to play, it's time to play! Overall he's going great and we can't thank you enough for him. He is the biggest lover and has brought so much happiness to our home already!
Regards,
Nathan Vigstrom
---
6/26/16
(Ransom x Jinx 5/5/16) River is doing so good!! We just had our first successful poo and pee in the right spot so the three of us are celebrating!

He had a little bit of car sickness on the way home, but other than that he has done great in the car!
He loves his blanket that smells like his mama! And is learning to freely love his crate! He woke up about three times in the middle of the night last night wanting to play haha.

The first picture is from today with his rope toy you gave him. Too cute! The video is him playing with the squirrel you gave him. We love him so much already.
Thank you again!
Jenna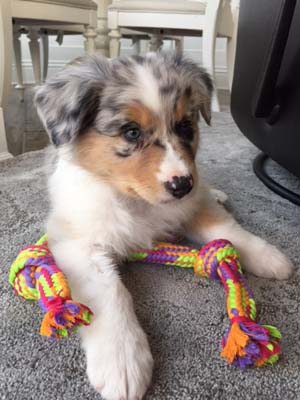 ---
5/2/16
Hello (Ransom X Loretta 3/2015)
Here is a couple of pictures of Teagan Rose Can't believe she is a year old - Loretta and Ransom 3/2015. She is working on her GCD title. Very easy to train. She weighs 42 lbs and 22 inches tall. Another amazing dog!
Terri , Jim and Chrissie