2009 Testimonials from the happy owners
of OLD WEST
puppies
These are the testimonials and emails from previous puppy buyers. We LOVE to hear about our puppies in their new homes. IF you have an Old West puppy and would like to let us know how he or she is doing, please email us. We love seeing pictures of our kids as they grow up with their new families. Please click on the year at the bottom on this page for testimonials from each year.
---
12/1/09
Hi Kitsie, hope your doing well. Just wanted to send you a note and some photos of our wonderful "Max" who turned 1 year old today. He's a bundle of joy and energy and has made a wonderful addition to our family. He didn't like the Birthday hat too much but we let him chew it up afterwards !!! LOL We'll send you some additional photos with Max and the kids next time.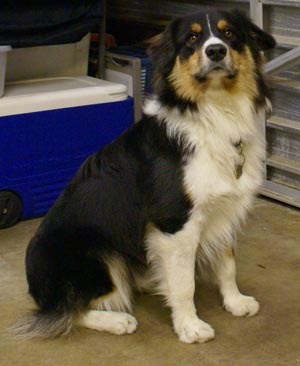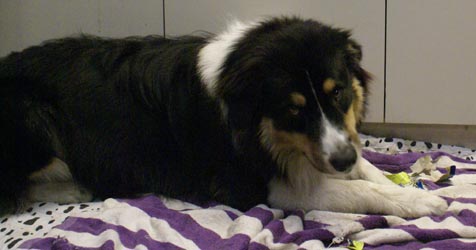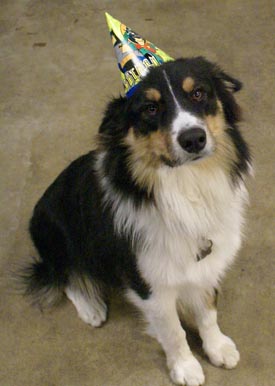 11/17/09
Hi Kitsy,
It is great to hear from you! Hope all is well. We are absolutely loving our new puppy that we named Brizzie. He is such an angel, and is a complete opposite of our other dog. It is so cute how much they love each other though, and could go on playing all day with each other. We are so glad that we have him. I have attached a few recent pictures of him for you to see how big. We will definitely send you more pictures as he gets older. Keep in touch.
Danielle
Septemper 19, 2009
Dear Kitsy,
It's been awhile, wanted to let you know that Lash (Born 12/12/04 to Willie and Amanda) has matured into a fine handsome dog whose good traits are many and who receives many compliments from friends and strangers alike. He has all the best aussie traits, curiosity about everything going around him (He always pushes ahead and looks into ever cupboard opened), spreads love everywhere he goes, listens and pays attention, makes friends with everyone he meets, the list goes on. He loves his hikes in the desert around our North Scottsdale home and can keep up with my husband who is training for a Mt. Whitney hike. His favorite job his keeping track of the coyotes that like to tease him on the other side of the fence. He has been rattle snake trained and has warned us of their presence 5 times over the last 4 years. When in California, he loves his dog beach on Coronando and our last visit had him herding three Great Danes. His exceptional coat gets him compliments from most other Aussie owners we meet and I always mention who the breeder was! I love visiting your site to see the latest puppy litters and am hoping when Lash turns 7 we will be able to get another puppy.
Thanks for the dog love of our lives,
Audrey, David, Tyler, Spenser and Sonora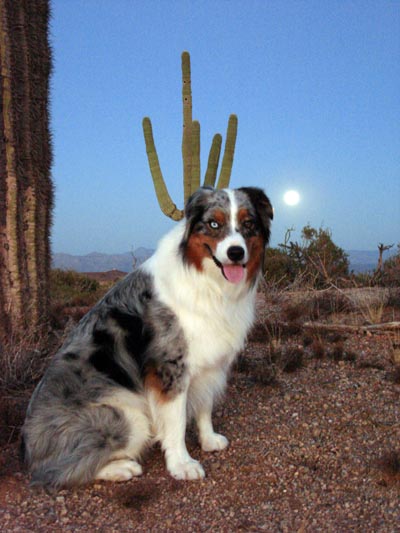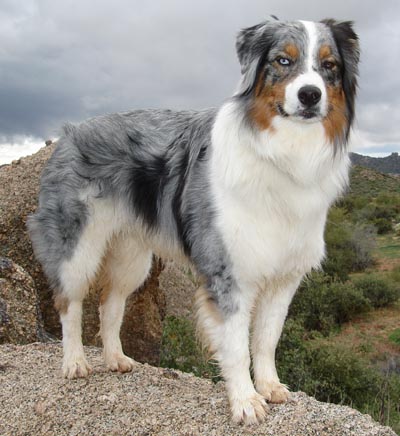 August 4, 2009
Hello Kitsy!
It has been a very long time since Iíve written. Shark and Cocoa are doing great. I just saw the pictures of the latest litter, wow 11 pups! All are absolutely gorgeous. One day I will be back for a black tri; as soon as I get some land. I've sent you some recent shots of my two kids. They really have turned out lovely. Shark is coming up on his 6th birthday on the 21st. And Cocoa will be 5 on Christmas. I can't believe I've had them this long.
I hope all is well with you.
Sincerely,
Tawnia, Sharky & Cocoa
Las Vegas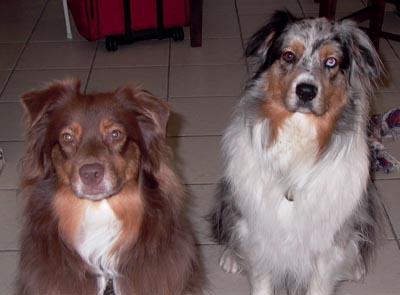 6/9/09
Today is Midna's (
Old West Midnight Rider, from Reno & Cinder) first birthday. It's hard to believe how fast the year has gone and how grown up she looks compared to the 10 lb fluff ball we picked up from you. We still call her Midna Bear, a nickname we gave her in the first few weeks home. To "attack" Link, our 5 year old Lab/Husky mix, she would rear up on her hind legs to reach his face and paw at him with her teeth showing like a little black bear. Midna is very intelligent and friendly. She loves to meet people on our walks, greeting them with a big smile and whole rear end wagging. She plays with Link daily and has many friends at the dog park. At home she follows us around and tries to "help" with everything we do. She's such a great addition to our family and brightens every day.
Laura, Jon, Link & Midna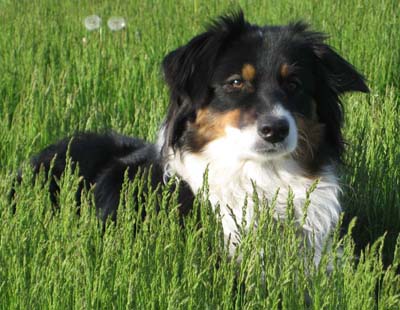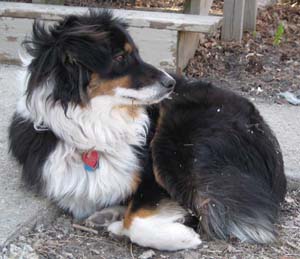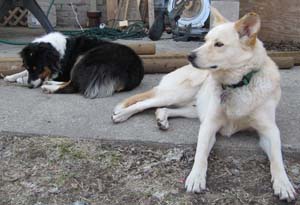 4/8/09
Dear Kitsy,
We have a 5 year old Australian Shepherd that we got from you. His dad was, Wrangler and his mom was, Mikayla.
His name is, Koachella Fire Dancer Bear Claw Starbuck. But we call him, Koa. He is the smartest, politest, most willing to please, most beautiful, handsomest dog ever born. We Love him! He has 36 acres in Ojai to manage. There are coyotes to keep track of, quail to chase, rabbits to...., squirls to .... hunt, beds to jump on, trails to investigate. And then there's the beach. We want to thank you for helping us find the best Australian Shepherd ever to have been born!
Keri, Charlie, Lucas, Michael and Koa Starbuck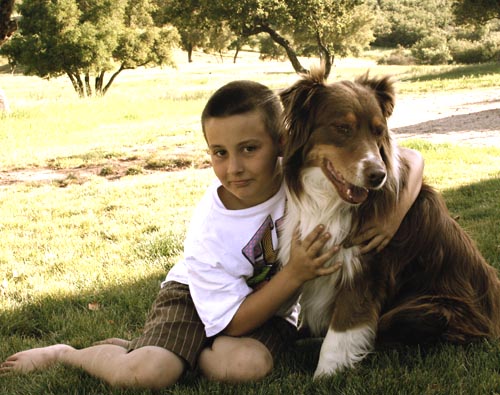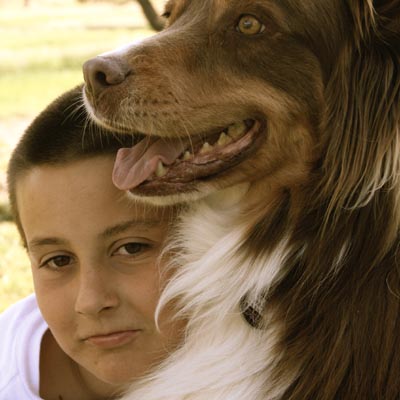 1/6/09
It's been almost 10 years now! - and I've moved from Catalina to San Diego and married - but I wanted to let you know that Brisco County Jr. is the most treasured, loyal and loving dog ever...And a similar to boot. I was so sorry to see that his mom, Amanda, died. He totally has her personality - goofy and sweet, not a mean bone in his body. Thank you so much for the my best friend.
Laurie Udarbe Clausen