2004 Testimonials from the happy owners
of OLD WEST
puppies
These are the testimonials and emails from previous puppy buyers. We LOVE to hear about our puppies in their new homes. IF you have an Old West puppy and would like to let us know how he or she is doing, please email us. We love seeing pictures of our kids as they grow up with their new families. Please click on the year at the bottom on this page for testimonials from each year.
---
10/23/04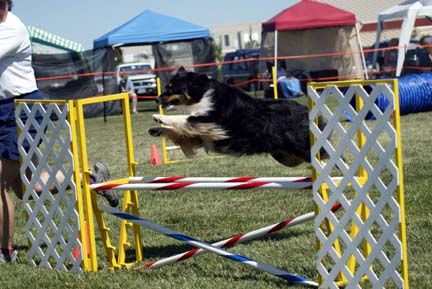 Hi Kitsy,
It's been a long time since I wrote, and I thought I should bring you up to date on how our wonder dog, Old West's Reckless Kelly Rose aka "Kelly" has been doing. She has continued to have the most wonderful and amazing personality, and is an integral part of our household. Her boundless enthusiasm and complete ease with other dogs has made her a delightful companion who can be trusted around all other dogs, people, and kids. She excels in agility, and her only real handicap has been an owner that didn't have the time to put into training as much as is needed. Now that her "dad" is training as well, we think she will get to excellent pretty quickly (she's currently in the open classes of all events in both AKC and NADAC).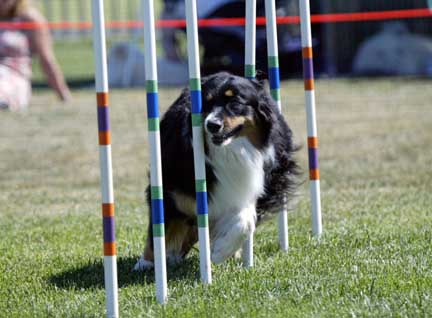 Here's a couple pictures from an event this spring. As you can see, there is no lack of drive or fitness here!
Thanks again for such an amazing dog! We love her totally!
Take care,
Jan Skurzynski
9/1/04
Dear Kitsy,
I just wanted to tell you how much we love KOA, the red try male that we got from you this spring. He has to be one of the happiest dogs in the world! We spend part of our time at the beach where he loves to run and play with other dogs. Then, we spend the rest of our time on a 34 acre ranch where he has full run of the ranch. He is a very happy boy!

We've started training with Wency, but will be looking for a trainer in Ojai. I was wondering if you have any suggestions about someone in Ojai?

Koa is happy to see everyone, loves all other dogs and is a joy to have as a new member in our family!
Thank you Kitsy.
Keri Starbuck
8/27/04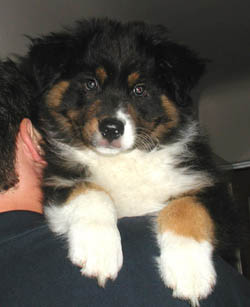 Hello Kitsy and John;

This Saturday Romeo (Amanda & Wrangler 2/21/04) turns 6 months and starts his first herding class. You may remember him as Black Tri #1 or the big "rollie pollie" of the litter. John used to tell us how he liked to "sing." Well Romeo is a true lover and is growing up to be the most adored puppy wherever we take him. People always comment on how handsome and personable he is. He is completely socialized, loves to play with children and other dogs, has no aggression issues and is just stunning to look at. We are debating if we should show him or have him altered.

We are also considering getting him a playmate. We're bummed we missed your last litter. Since Romeo is a Black Tri we are interested in a Red Tri or Merle. Are you sure you want to keep the Red Merle Girl? We also saw the Red Tri and Blue Merle Girls on the Heartfire Puppies site. What do you think of them? We are so biased to your dogs it's hard to imagine going someplace else. Anyway, please let us know your thoughts about a good playmate for Romeo and the pros and cons of showing him or having him altered.

Lastly, we would love to take a drive and bring Romeo to see you, John, Wrangler and Amanda again. Let us know if you would like that, and if so, when would be a good time for you.

All the best,

Louie and Jeanine Lorenzo
8/20/04
Hi Kitsy, I just wanted to let you know that Fozzi (Hot Rod X Tori) was fantastic on his first camping trip. We went into the mountains in the Sierras and Fozzi was by far the most well behaved and obedient dog in the group. He loves to swim in the creeks, rivers and lakes and is always the first to jump in. One of our friends actually had a professionally trained sheriff's Rot. up there and Fozzi showed him a thing or two. He has been such an amazing dog we are really looking forward to getting his "little brother" at the end of September. We will send pics as soon as we get them developed. Thanks again!
Carolyn Burgess
CrauforD Wine Company

8/16/04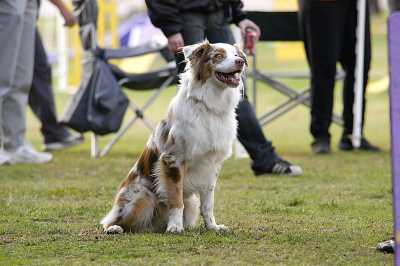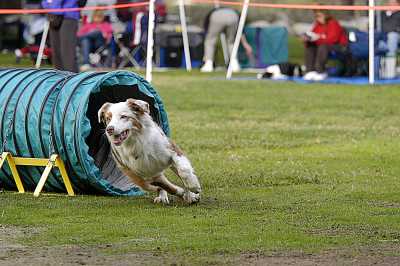 Kitsy,

Sorry its been so long since I've sent anything about Rusty (Old West New Kid in Town 2-25-02). We've just been really busy training and competing. Yesterday, Rusty earned his first Grand Prix qualification and got a 3rd!! Rusty has been an amazing companion and quite a surprise on the agility field. He's not even 3 yet and within seconds of the fastest Border Collies. He is one fast Aussie with tons of drive. Many other aussie people have asked if he was intact just because of the drive. He's really a young boy and he's got lots of growing up to do, but you can see his maturity in everything his does. He's just an outstanding little kid and he's one cute puppy. Thanks again for Rusty, he's one in a million.

Naci Rusty Bulut

7/3/04
Hi Kitsy,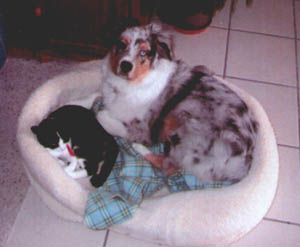 Here are some recent pictures of my beautiful boy, Sharky (Tori X Hot Rod 8/21/04). He graduated from obedience recently and has learned to wave and shake paws. As you can see he loves the kitty. Not sure she loves him so much though. He really has turned out so gorgeous. I get all kinds of compliments about him. He has discovered that he has a voice not only for barking, but for talking back. When he wanted to play he gets one of his chewies and growls and barks with it in his mouth. Usually with the butt up in the air. He really is a comedian. Every night around 6 pm he gets wild and runs as fast as he can around the house; ricochets off the back of the couch. I wish I had a video camera, it's hysterical. The other fun thing he dos is bump me with his cold nose on the back of my legs to get me to run around with him. If I don't run then he pushes his way through my legs so he can look up at me and growl some more.
When I get home from work, or wake up in the morning he has to have his butt scratched. So he pushes his way through my legs and stops when his rear end is in front of me and waits for me to scratch it. This is our everyday ritual.
Thanks for my wonderful, wonderful boy.
Tawnia
7/2/04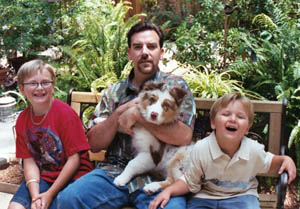 Hi, Kitsy
I just wanted to let you know how Noah is doing. He is such a lovable, sweet, and smart boy. We just finished puppy-k and we are starting dog school next month. He's very responsive to training, and I think eventually we are going to do some agility or Frisbee because he is able to jump just like his dad.
He has already been to the beach, to the mountains, and the annual Mission Viejo Dawgwalk fundraiser.
He hasn't met a dirty sock he doesn't like, and tries to "bury" them in the backyard, so we've gated the room that contains the laundry and the cat box (he likes that too-yuck!).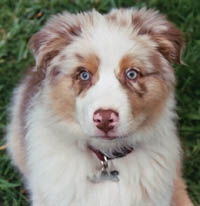 The boys love him to pieces, and he has become a beloved member of our family. Attached are some pictures I took on Father's Day, and I'll send you some more when he gets bigger. Thank you for such a wonderful puppy.
Regards, Michelle Radmore (Mikayla X Wrangler 2/25/04)
6/25/04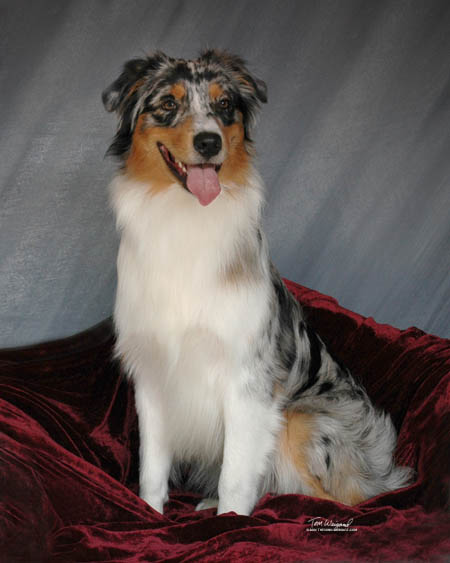 Hi Kitsy:

Attached are recent pictures of Rocky (Willie x Amanda 8/2/2003) He is such a pleasure. I have started Agility classes with him and he just loves it so much he barks through the whole class wanting to take his turn. He has such enthusiasm and is very fast.

I have also started showing him myself in AKC. So far he has 5 blue ribbons and one reserve winner. I had the Winning Image take his picture at the Pomona show and thought you would like to see how he has grown.

Hope all is well with you.
Regards,
Linda Scheid
6/14/04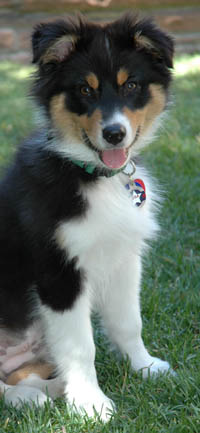 Hi Kitsy,
Blaze is...well...perfect! See for yourself.
She is smart, a quick learner and sweet. She completed puppy classes and can sit, down, wait, stay, get busy, roll over, leave it, bring it, get it and heel. Being our first family dog we wondered if we should spend so much for a puppy. We have no doubts now, Blaze is worth every penny and then some.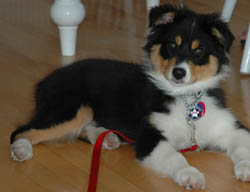 Thank you for making our hearts and lives richer!
The Shultz's
(Mikayla X Wrangler 2/25/04)
6/7/04
HI KITSY,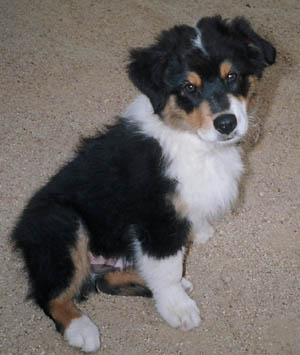 Just thought I'd drop you a note and tell you that "Rider" is doing great. We have started hiking about 3 miles each morning and he is holding his own with the girls, Lilly and Crystal. We will be increasing his distance as he gets older. He sits, stays, comes, and does his business on command. Just a smarty. We start Puppy kindergarten next week.
Will send you a better picture soon
Georgia Reece

(Amanda x Wrangler - DOB 2/21/04)
5/28/04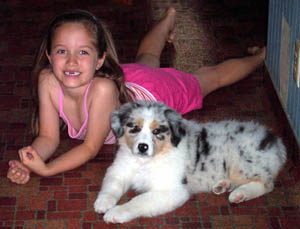 Just thought I would send you a picture of Scout and Kaitie. They are becoming great friends. Scout is in puppy kindergarten and is doing well. She does like to herd the other pups though. We are very happy with our new puppy!
(Reno X Bloomers - DOB 2/25/04)
4/5/04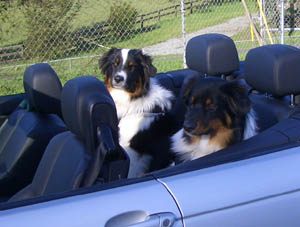 Hi Kitsy,
You must be so busy with all those gorgeous puppies! I'm rather envious of all the fun their new owners are going to have soon. Here are new pictures of Hobie and Maverick, now 8 months old. Hobie is back living with us again, enjoying the open space and his brother's company. They go to day care 3-4 days a week with 3 other Aussies, who keep them in line. Both are big cuddlers who love to run on the beach and ride with the top down. We're doing a basic obedience class with Maverick , and will start one with Hobie in 2 weeks. Thanks for raising such great puppies!
Chris Marki
(Willie X Amanda - DOB 9/03)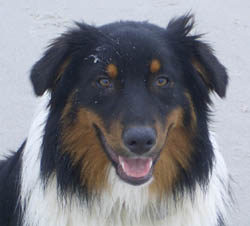 Hobie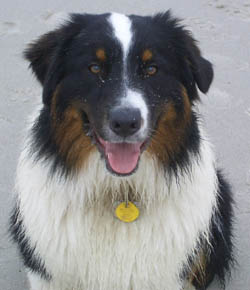 Maverick

4/2/04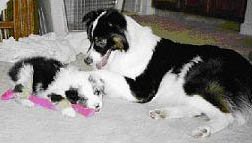 Hi Kitsy!
Just a note to say how much we adore our two girls, Presley (Willie x Amanda 9/10/02-black tri) and Kiwi (Willie x Amanda 8/02/03-blue merle). Both are so adorable and Presley is such a big sister to Kiwi. It is cute how they try to "herd" each other and Kiwi will jump into my lap to let Presley know that she (Kiwi) is possessive of me! It is pretty amusing until both start to "air snap" at each other and whine; but I can tell that Presley is happy to have her sister with her for company regardless!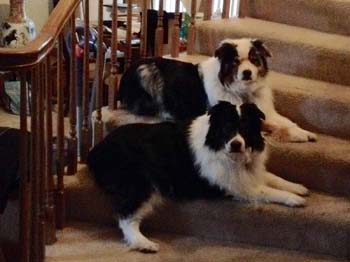 Presley has a mellower disposition than Kiwi. Kiwi loves to "talk"...everything still seems new to her. Both do their "wiggle-butt" dance when it is time for their daily walks. We have 2-3 other Aussies on our block that "the girls" like to say "Hi" to.

Our family enjoys these two immensely. Attached are 2 photos. One was taken the week we brought Kiwi home to Northern California Oct.'03, she was 8-9 wks at that time. The second one was taken just last week, March '04.

We enjoy seeing the photos of their brothers and sisters online! Thanks!
~jodeene
(Willie X Amanda - 9/02 & 9/03)
3/25/04
Hi Kitsy,
I have been checking out the new litters. Wow! a bunch of puppies all at once. They are absolutely beautiful. Sharky is huge! I just love him more than anything. He is such a great dog. I was wondering if you will be having any more litters this year. I really want another female. Plus Sharky needs a buddy. My niece is moving back to New Mexico this summer and he will be just devastated. He really loves her so much. So I figured I would get another one from you. Most of all I want another Aussie. As soon as I get my 2nd, my family will be complete. I hope all is well with you. Let me know if you're planning for more pups this year. I'll send more pictures as soon as I get them.
Take care.
Tawnia
3/21/04
Hi Kitsy:
Just wanted to let you know how Ben is doing. He's now 18 months old, and what an outstanding dog he is. My goal over the next few months is to get a digital camera so I can send you a picture of him. He is so smart and so handsome. Are you planning any more litters with Amanda and Willie? Amanda's current litter sure is good looking. I'd be interested down the road in another aussie, probably a female this time.
Sincerely,
Vicki Ernenwein and Ben
1/22/04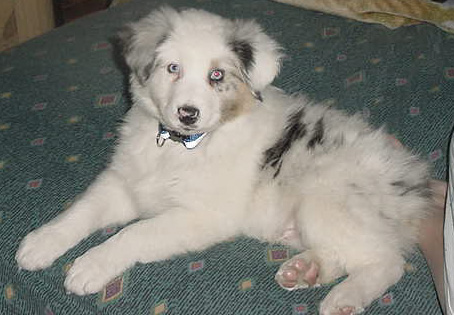 Update on Chance Glass. Here is Chance at 14 months old. We were at our home in lake Arrowhead and he was just running around and being a Aussie. My son Michael thinks he is human--Chance has now learned how to open all the doors in the house, so he is taken for walks frequently. He loves to trail ride and sleep in the bed. He is a great addition to the family. Here is some photos as well.
-Christina Glass
1/13/04
Hi Kitsy,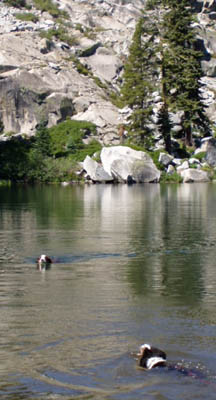 I was thinking of you yesterday as I had my Aussie, Zoe (purchased from you in 1998) out cross country skiing with me. I wanted you to know that she brings us so much joy - I just had to send some pictures of her for you.
Her temperament is very mellow and she rarely shows any emotion - unless you "really" know her and can read her eyes/eyebrows, it is hard to tell if she is enjoying herself! However, since we have moved to Lake Tahoe, her favorite activities are hiking, swimming and accompanying us cross country skiing in the back country. She gets very excited when I ask her if she wants to go hiking or swimming! She hops around and makes a cute little "chuffing" sounds. When I was very ill for 2 years and didn't know my outcome, she was by my side every minute of the day - she is very special to me. We have 3 other Aussies; 1 we purchased and 2 we rescued (we now do purebred Aussie rescue). Don't get me wrong, we love them all, but Zoe has been my little "freckle-faced" angel.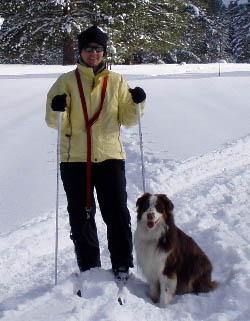 Thank you for allowing her to come into our lives
Debi Griffiths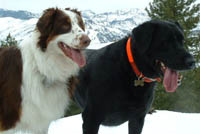 1/9/04
Hi Kitsy,
I'm sorry it has taken me so long to write and send some pictures of Sharky (Sharkbait). It has been really crazy since I picked him up.....He is truly the most wonderful dog. He has so much personality and absolutely loves my niece. Right now he stands at 17" at the shoulders and is just over 4 months old. Needless to say I'm really excited about how big he is getting. He's been to the vet and they just love him. His markings are unbelievable. Beautiful is the only way to describe him. He is very attached to my mom's kitty too. He thinks that she is his live squeaky toy. But he is very gentle when they play.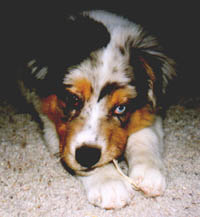 Just recently his bark has become very deep. No more puppy bark from him. he is very protective of his backyard and most of all, his toy basket. When he is protecting the yard he has a very intimidating bark. The other day he growled because he heard something out front and I was so surprised at how deep it is. I wouldn't want to be a prowler trying to break into my house.
I haven't had any trouble training him. No chewing problems, digging or otherwise. He seems to understand "no" immediately. Potty training was easier than I had expected. He just goes to the door and whines a little and we let him out. The funny thing is that every time people see him they think he is a Husky mix. I figured after all of these years that more people would know an Australian Shepherd when they see one. But I guess in that sense they are still kind of rare. I will send more updates and pictures. I'll try not to wait too long next time. Thank you so much for such a beautiful, smart and loveable dog. I can't tell you how happy he makes me.
Sincerely,
Tawnia