2014 Testimonials from the happy owners
of OLD WEST
puppies
These are the testimonials and emails from previous puppy buyers. We LOVE to hear about our puppies in their new homes. IF you have an Old West puppy and would like to let us know how he or she is doing, please email us. We love seeing pictures of our kids as they grow up with their new families. Please click on the year at the bottom on this page for testimonials from each year.
---
10/24/14
Hi Kitsy - Just wanted to send you a quick update on Blue and Sky. They are 11 months old on Sunday and we canít believe it has almost been one year. At last weigh in the were both just over 50 lbs. The are super friendly and love the dog park. We have been doing some training and they know how to sit, stay, wait and we are working on heeling. It is wonderful to send them out with our boys for a walk and know they will be well behaved. They love chasing squirrels at the local park and hiking in the hills near our house. The most surprising thing we found is how much they love swimming. They take a dip in our swimming pool every day and will go sit on the step after a long walk to cool down. Everyone that sees them comments on how beautiful their coloring is and I tell them how they look just like their mom(Loretta) and dad(Ransom). Thank you so much these wonderful dogs. We love them tons.
Amy, Paul, Connor and Cade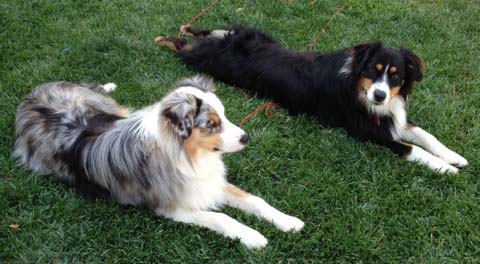 ---
8/30/14
Hi Kitsy,
Bandit is 27 pounds now.He started puppy training class yesterday.He loves people and most of the dogs he meets. He knows sit, watch, down and touch commands.In this photo, he's waiting for a chip in a dog friendly restaurant.We take him out as much as possible to get him socialized

Thanks for such a great dog! Karl Matthews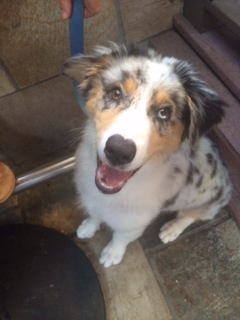 ---
8/7/14
Hi Kitsy,
Just wanted to check in and let you know that Elvis is doing great. He has a great personality and is always ready for an adventure. He is a big boy weighing in around 50 pounds all muscle. He loves going to the beach and loves the water. Everywhere he goes he makes new friends and is the standout dog. Thanks again for Elvis!
Joe & Candice & Elvis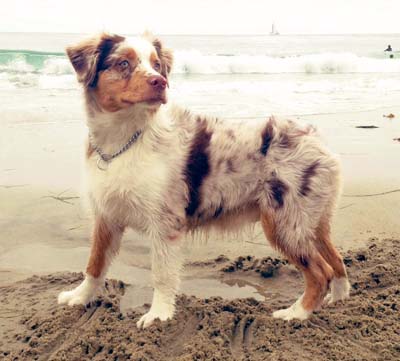 ---
7/28/14
I wanted to give you an update on our 2 pups........they are almost dogs! I'm attaching two pictures.........one is from late February when Mayday was 5 months and Bill was 3 months. The "grownup" picture is from today, so Mayday is 10 months and Bill is 8 months (they are actually 10 weeks apart). Mayday has remained quite petite, while Bill is much bigger all around. They both have wonderful temperments and make friends wherever they go. I've started foundation fundamentals for agility with Mayday and she shows great promise. Bill is the most wonderful companion dog for my husband. We love our Aussies! Will keep you posted,
Vicki & JF Ernenwein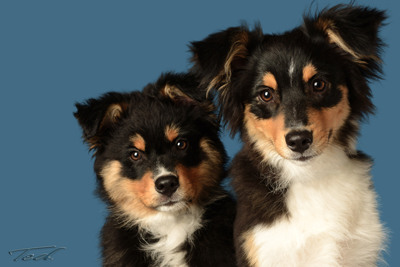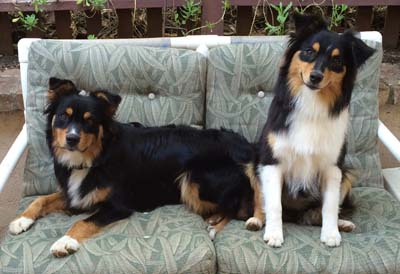 4/27/14
Hi,
Misty Blue keeps getting more beautiful and sweeter the older she gets. She has more energy than any dog I've ever seen and loves every person or anything else that she encounters. All the neighbors love her and come by to take her for a walk. She runs next to John's wheelchair about a mile twice a day. Thank you for giving us such a wonderful friend.
Sally & John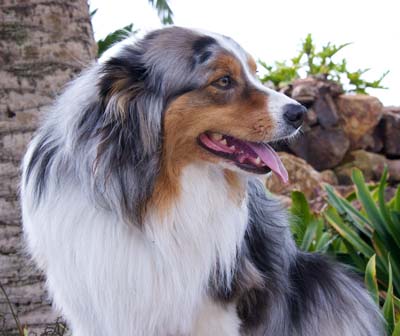 ---
4/2/14
Hi Kitsy,
Here are recent pictures of Monkey butt.
We are still fighting with ears, she wants her ears to stand up. I am thinking I am going to settle with a little bit higher ear bent. (One of picture's you can see what I am talking about).
Her obedience is coming along. We are heeling and learning we can move the back paws and not moving the front...
Lori
BIS UKC, AKC, ASCA Ch Rebel, UD, RA, CGC
Storm, CD, RN, CGC
Darcie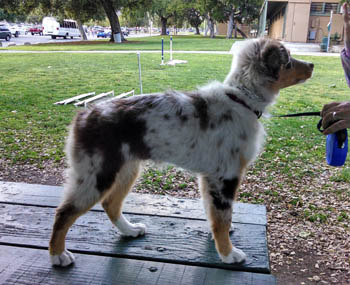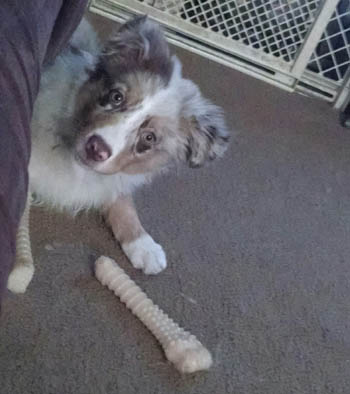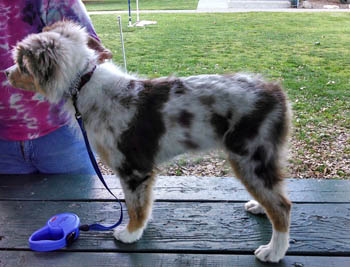 ---
3/30/14
Hi Kitsy - Just wanted to send you a quick photo to show how big Blue and Sky have gotten.
They have completed all their shots and have been out for walks this last week. They are so smart and learn so quickly that it is very easy to walk them. They have met some big dogs and some small dogs and behaved really well. Their personalities are as you remember. Sky is much more willing to go out and figure things out while Blue stands back a bit to check out the situation. He lets her do the scary stuff and then follows. :-) She outweighs him by two lbs. She is 30 and he is 28.
We will be starting a training class soon to work on more of the basics but we are enjoying every minute.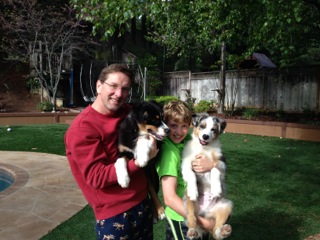 ---
3/25/14
Hi Kitsy,

Haven't sent an update in a while. Quigley is doing great and loving life. He loves to swim regardless the weather and is quite the frisbee catcher. There is never a dull moment with him around. Hope you are doing well.
Teresa Lewis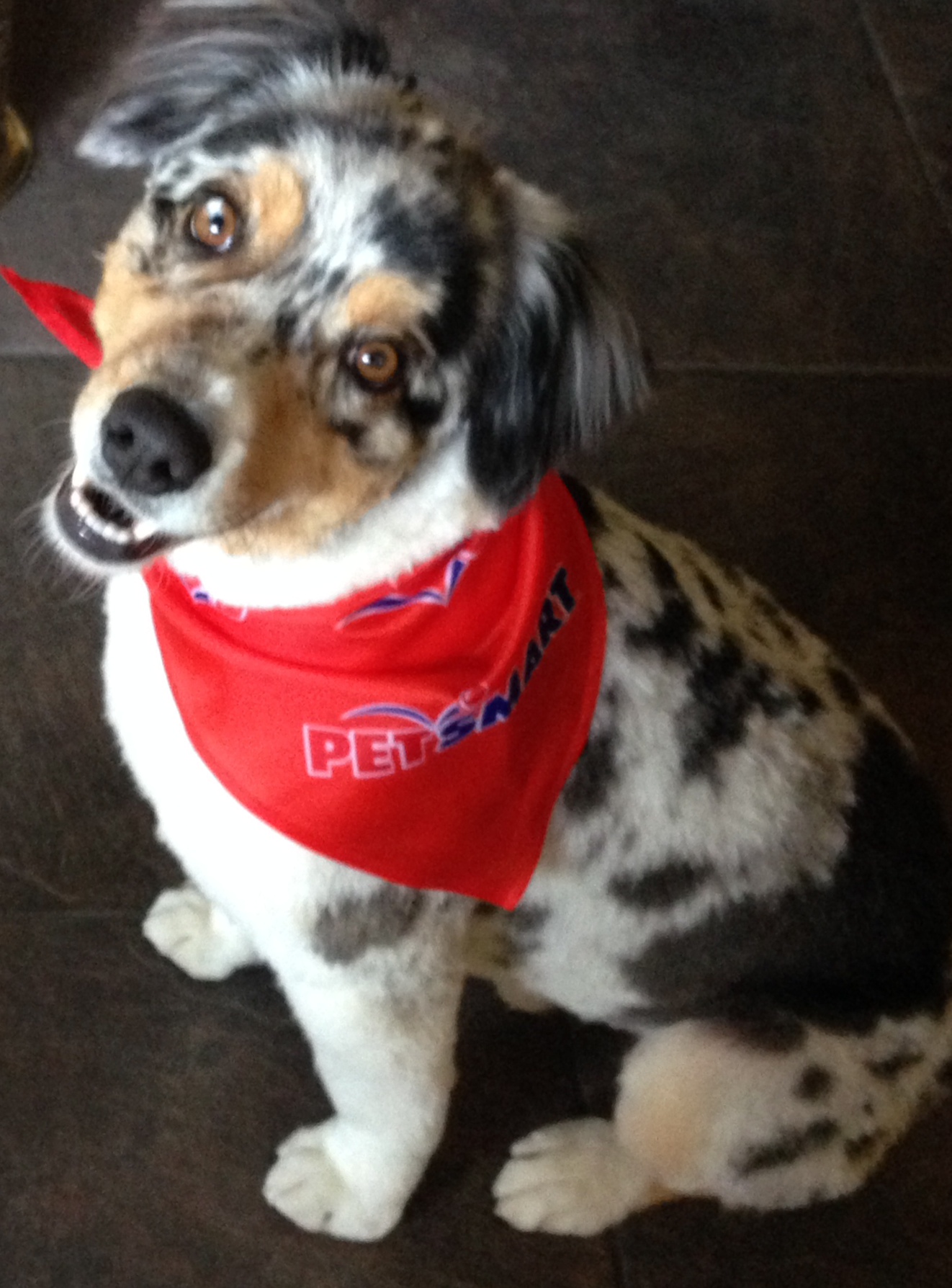 ---