12/16/15
Hi Kitsy:
Just wanted to give you an update on Mayday (Old West Stampede). She was born to do agility, no question. This picture sums up her first ASCA trial where she both Qualified and placed First in all 4 of her classes in the Novice division. and was Novice Hi in Trial. We started showing in AKC in August, and
in 3 months
she had titled out of Novice Jumpers with Weaves and Novice Standard, and also Open JWW and needs just one more leg in Open STD. She turned 2 on
September 23
(Ransom x Bella) and stayed on the small side.......she measures 18" at the withers so she jumps 16" at trials. She has so much energy that I barely keep up! She loves everyone and isn't a barker, so I couldn't be happier with her. Bill, the other puppy we purchased, is now 2 as well (Ransom x Loretta born 11/26/13). He is my husband's constant companion and is so easy to have around........he's much more "chill" than Mayday. We each ended up with the exact dog we were hoping for. I'll send more pictures next year. Hope you have a peaceful holiday,
Vicki & JF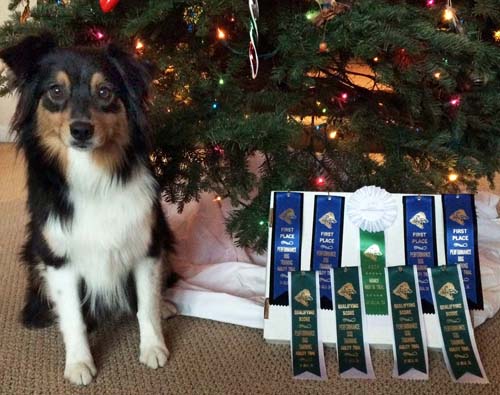 ---
12/1/15
Here is my love, Feathers, who I adopted from you after her last litter and retirement. She is still the sweetest and best companion. Her 11th? Birthday is coming up in the next couple of weeks and I thought you'd like to see how beautiful and healthy she is. I was sorry to see that you lost Reno as I fondly remembered him from my visit to pick up my girl. Feathers and I wish you a wonderful holiday season. Again I thank you so much for my pumpkin pie. She still loves to go to the barn and run around with all the other barn dogs and thinks rides in the car are the best thing (well maybe second after food and treats).
Teri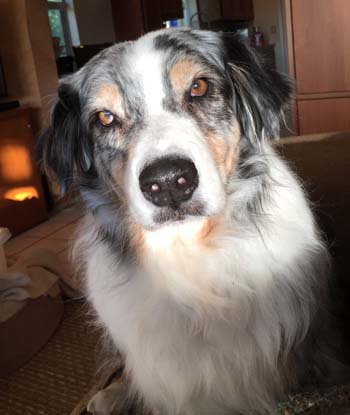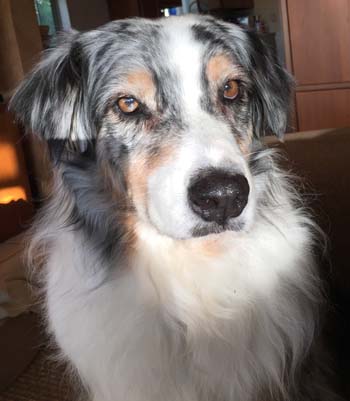 ---
9/4/15
Hope this email finds you well. Haven't send any pictures of the kids in a long while. We just celebrated Skarky's 12th birthday this past August. My handsome boy is still as handsome as the day I brought him home. He and Cocoa are the loves of my life. Don't know what I would do without my perfectly, silly pups. I wanted you to see how beautiful they are even as they have come into their senor years. Cocoa will be 11 this Christmas. And let's not forget our even sillier black tri Ziggy. He's is my laughter every single day. I don't even think Cocoa was as silly as he is. Again thank you so very much for our beautiful pack of aussies. They area joy and are loved more than anything.
Here are some recent pictures we got this summer.
Take care,
Tawnia and Laura Alvis (my mom)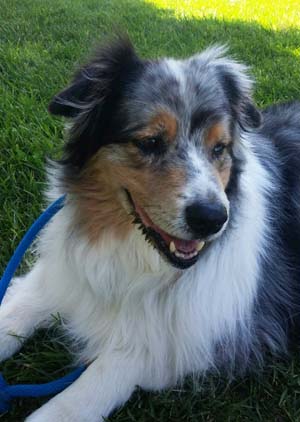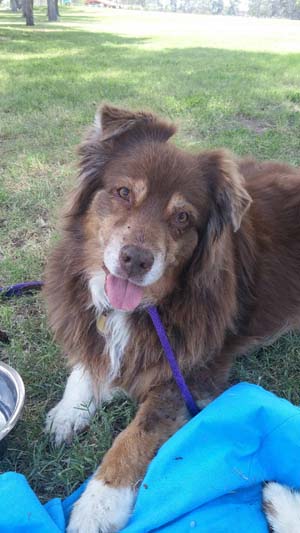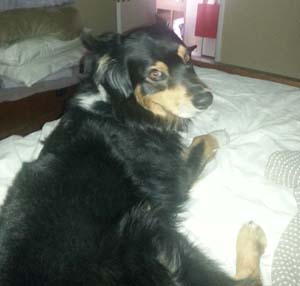 ---
8/9/15
Hi Kitsy,
I was just looking at your website and thought I would send you a recent photo of Roxy. She is from Feathers last litter born 12/12. Roxy is such a beautiful girl very friendly and full of energy. She loves to go to the dog park and interact/herd the other dogs lol. We look forward to many more years with this silly girl and we'll be sure to send you updates.
Sincerely,
Michelle Eiberger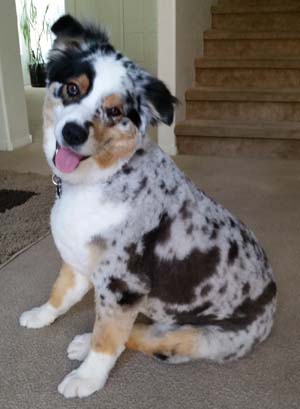 ---
7/17/15
Hi Kitsy,

Bandit passed two herding tests and earned his first title, he really enjoys working sheep!

Karl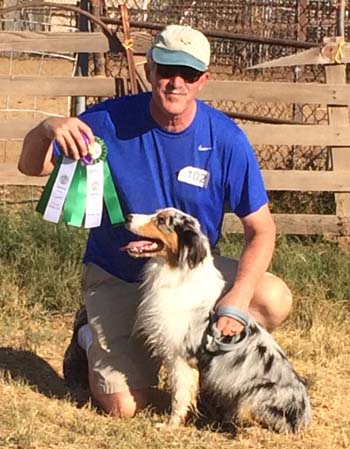 ---
7/8/15
Hope you are enjoying your summer vacation. We are enjoying our summer with our two Aussies from Old West! The attached picture is of me with my new grandson and our Aussies Abbey (Sept. 2002) and Annie (April 2015) at my feet. These two Aussies love each other. As you predicted Abbey is teaching and training Annie. It is delightful to watch the two play. When I take them for walks they melt hearts everywhere we go! They are such dear and beautiful dogs.
Thank you Kitsy,
Eric and Marci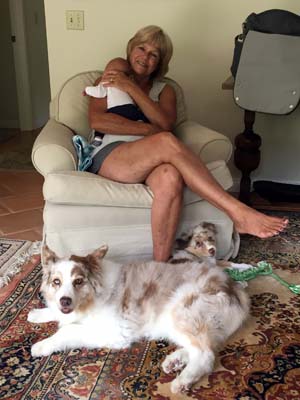 ---
6/21/15
Hi Kitsy,
Look what we did yesterday, Rally Novice B 2nd place. I am invited to the 2016 AKC Rally National Championship in March. The requirements is finishing your title during the qualifying period and must earned three scores of 90 or more.. Darcie's lowest score is a 92 out of 5 shows... I am so proud of this cute little girl..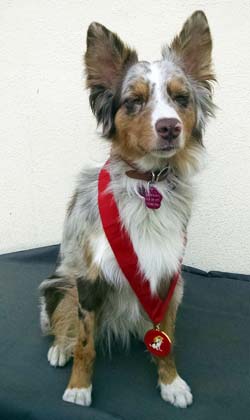 ---
6/2/15
We just wanted to update you on the puppy we purchased from the litter born 3/1. We ended up naming her Teagan, she was the second blue merle girl from that litter. She's getting along well with Chance, the aussie we purchased from you in 2002, who is thankfully still with us and as smart as ever. Teagan has adjusted fantastically and is taking great joy in both running as fast as she can to dive bomb under and jump over anything in her way as well as finding new tiny crawl spaces to get herself into and out of. Shes going to make a great agility dog one day. Her markings are getting more interesting by the day, and she's fit into our pack better than what we could have hoped for. Thank you for producing such fine dogs. As Chance has shown us, they are truly lifelong companions.
The Glass Family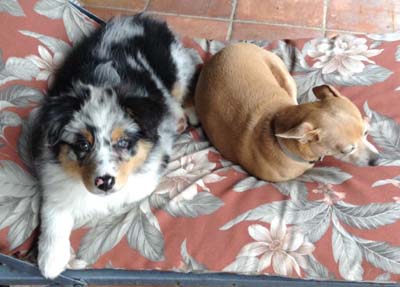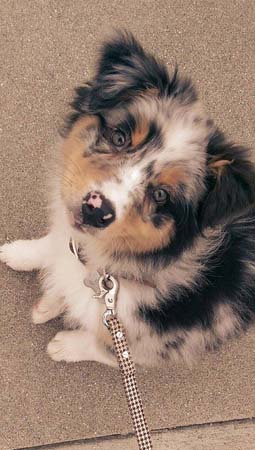 ---
5/8/15
I thought you would like a little update on Hunter. He is a black tri boy and was the last puppy to be sold from your litter born 3-1-15. He is doing well and crazy as ever! He is very smart and is learning to go potty in the right places. Here are a few pictures of him.....
Donna Page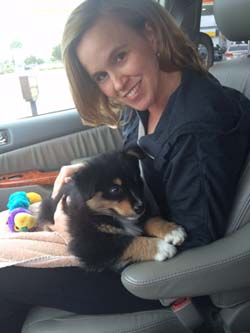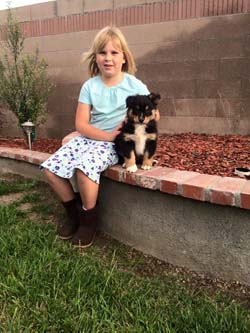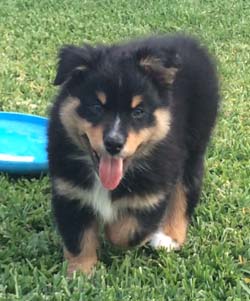 ---
4/28/15
See Hey Kitsy,
Denali's only been home like two days and just settled right in. She has the most awesome personality. Its like word for word the breed standard. She's just the chillest little pup. She positively LOVES her puppy size frisbee and brings it back and drops it all on her own. She's even almost got "sit" down after only one session. Everyone who's visited has remarked at her spunky, but polite behavior. Her only "bad" habit is she still puppy nibbles/nips sometimes but even that's going away already.
She's definitely got her mom's sweet personality and her daddy's eyes. The blue appears to still be blue and she's even starting to get a faint little brown geometric split(?) on the top in there.(Its also uber cute that the blue eye has white lashes and the ambery one has brown).
Pics are still kinda hard to get since she's either always moving or sleeping, but these were the best.
Thanks Kitsy,
Shannon Thaggard