2021 Testimonials from the happy owners
of OLD WEST
puppies
These are the testimonials and emails from previous puppy buyers. We LOVE to hear about our puppies in their new homes. IF you have an Old West puppy and would like to let us know how he or she is doing, please email us. We love seeing pictures of our kids as they grow up with their new families. Please click on the year at the bottom on this page for testimonials from each year.
---
12/30/21
Hi Kitsy! We're spending the holidays in Idaho and Hugo can't get enough of the snow. We have about 2 feet and it's about 10 degrees. We have been cutting snowshoe trails, but he deviates from the paths and has to dolphin jump through the deep snow. Santa brought a toy that "floats" on the snow - the Chuck-it Flying Squirrel and it's a hit! Merry Christmas and Happy New Year from our little Snow Man :)
Devin & Shana Reiss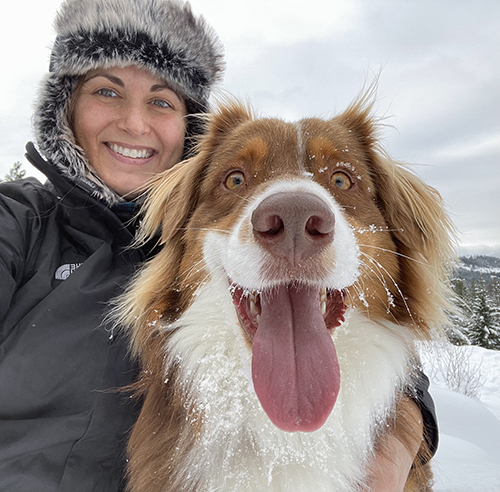 ---
12/17/21
Hi Kitsy,
Hope this e-mail finds you well. We're having a blast raising Coco (Loretta x Sutter 2021). Coco's a super sweet natured girl, very extroverted, loves being with family and being included! We take her everywhere we can and she's now more popular than us, haha. Her spirits are always high and nothing gets her down.

Coco's gone to puppy classes since her first week home and is making great progress on foundational training. We're looking forward to agility class when she's old enough and I know she's going to love it. Can't believe she's almost 7 months! She quickly became the heart of our house and we're blessed to have this remarkable girl.

Thank you so much for our wonderful pup. We'll keep you updated as she grows.
Happy Holidays,
Diana, Francisco, & Coco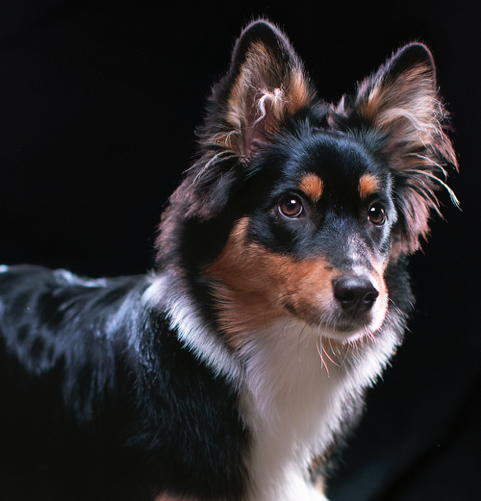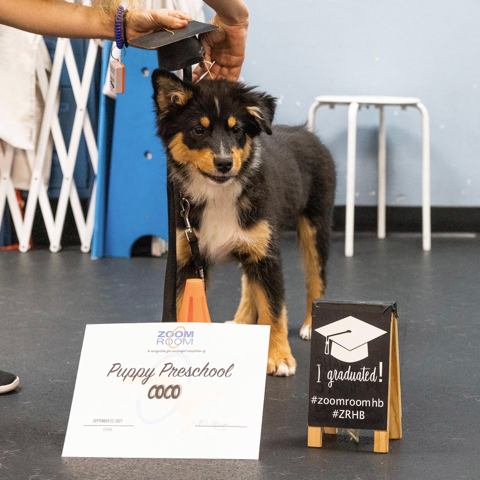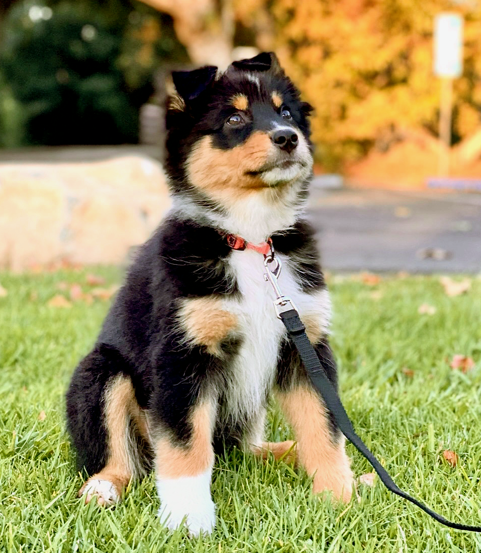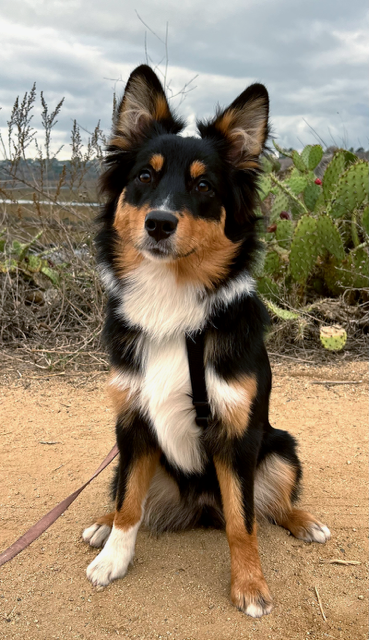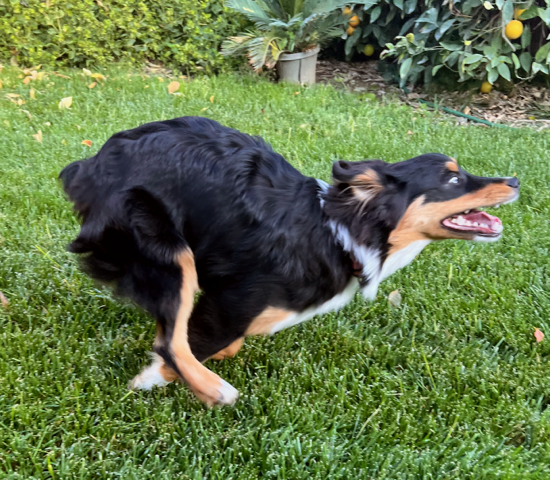 ---
11/25/21
This is my handsome Buddy. His birthday is 2/24/2019. His parents are Sutter and Jinx. We love him so much.He is INCREDIBLY Smart. Really cuddly. He loves to vacation at the beach with his older sister Lola. Thank you so much Kitsy for our beautiful boy.
Jennifer Perrine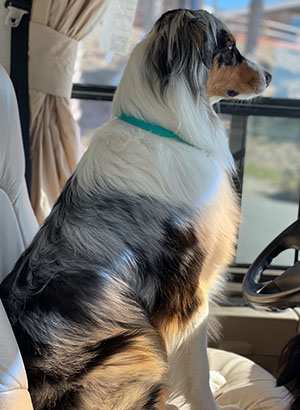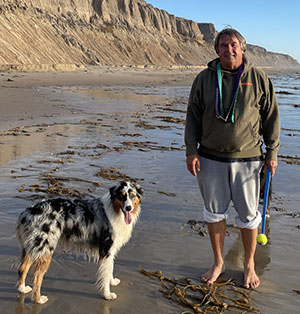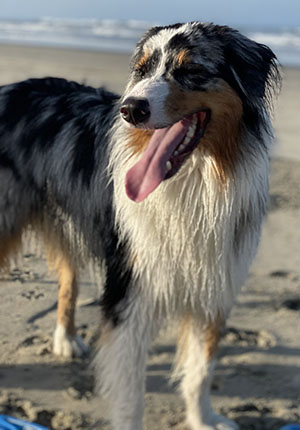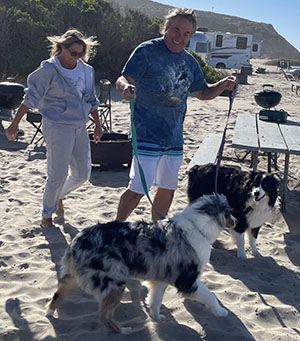 ---
11/9/21
Hi Kitsy,
Just an update on Tucker. He is doing really well. Our business still hasn't closed escrow, but our house did. So, we are hanging out in Orange County on our RV waiting to leave on our trip. He has totally adapted to the RV lifestyle. He just loves all the stimulation, people and pets. Never barks. Just watches the world go by. We love him and thank you again! Okay
Karen Bates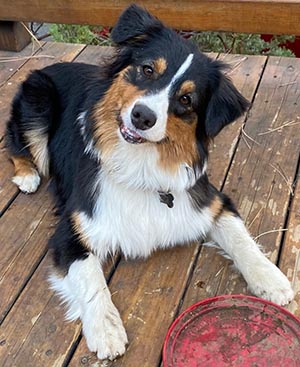 ---
10/22/21
Hi Kitsy,
I cannot believe it has been three months since we picked up Fay! (Loretta x Sutter, 6/21)

She is amazing, we absolutely love her. She is quite the character though! She is super smart, quite the vocal girl, very loyal and sweet but definitely has a mischievous side to her. Even her looks are mischievous. At 18 weeks she weighed in at 22.5 pounds and she is growing by the day. We are in puppy kindergarten, and starting a puppy agility class. She loves to learn and is quick to get the lessons.

She is walking well on her leash and getting socialized in her classes and with playdates with Mayday and Bill. Vicki loves her.

Thank you for allowing Fay to come into our lives. She is a very special girl.

Best,

Courtney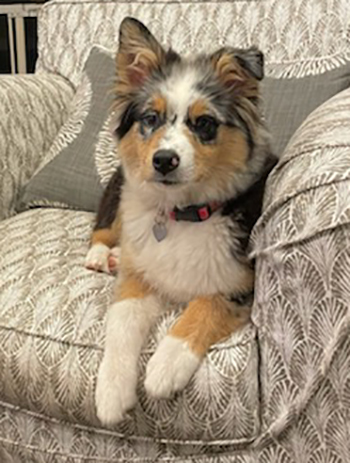 ---
9/11/21
Hi Kitsy,
Here are some updates of Hugo (2/13/2020, Jinx & Ransom). We live on rural property (no fences) and he always sticks close by, but is independent! He loves to be outside during the day!! Sometimes when we call him in, he drops to the ground like a Navy Seal and gives us the "not happening" look. Outside is his favorite place. We do so much exploring together: hiking, paddle boarding, hanging out with the cows, fall scouting for elk, you name it… he's game. He also goes to the office every day and keeps the morale high! He's been a great addition to our family.
We also wanted to let you know that our sweet Bode crossed the rainbow bridge a couple of months ago (he was 14). We have included a few pictures of him as well. He was the first dog we got from you and because he was so great, we couldn't have gone anywhere else when it came time to get Hugo. We love our dogs!! Thank you for your good work!
Shana & Devin Reiss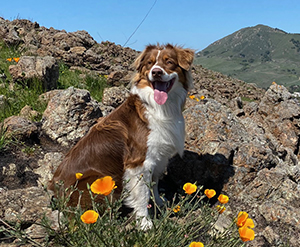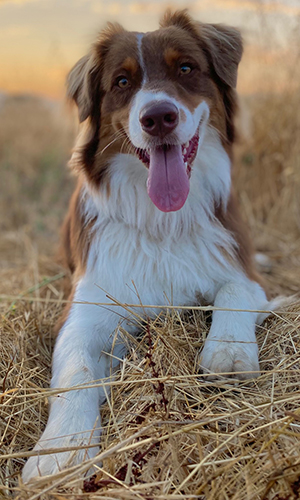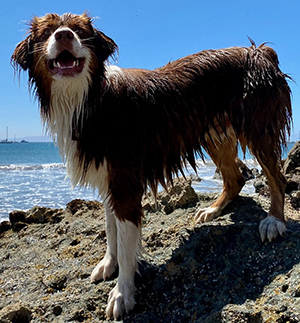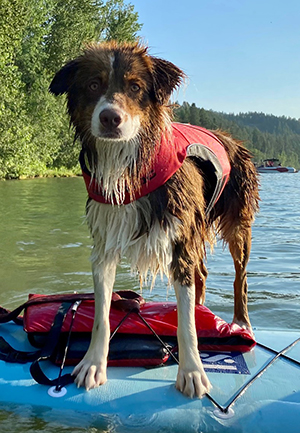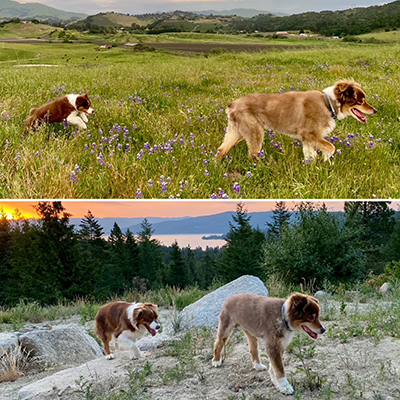 ---
7/26/21
Hi Kitsy,
I hope all is well with you. Here's an update on Rocky (Sutter X Winter 10/15/19) finally! He's doing great..he's 55lbs and healthy! He is a very beautiful boy, people stop and tell us all the time! Rocky is very smart and loves the ocean, if he could run and be in the water all day he would :). He is also very good at catching a frisbee. Rocky is a happy, loving and loyal boy and he loves his Daddy! We are grateful to have him in our lives!

Sincerely,
Rick and Kim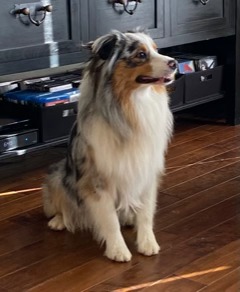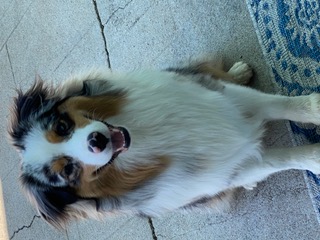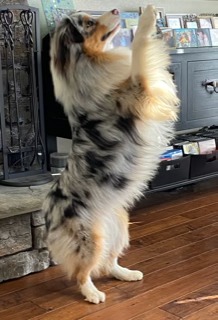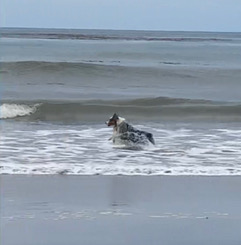 ---
7/22/21
Hi Kitsy
How are you?
Blue (Ransom and Nighty 2-20) is doing great. He constantly loves to play and talk. Our boys love playing with him. He is a great companion. The best!!
We have been taking him to a local dog group off leash with about 30 other dogs, and he loves running around and playing.

Thank you Kitsy. Your new litter is adorable!!
Miss ya and hope your are doing great!

Warmest,
The Avila Family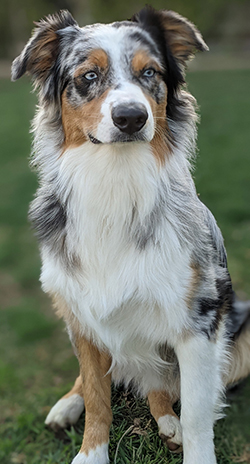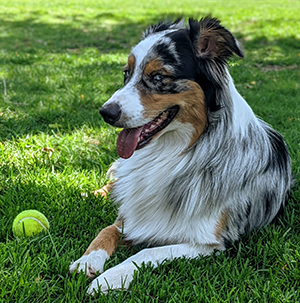 ---
5/5/21
Hi Kitsy!
I hope all is well with you & your dogs!
I thought that you might like to see some recent photos of Peachy. Today is her 5th birthday (Jinx & Ransom, 5/5/16). Even though Peachy is the smallest of our 4 dogs, she is still the top dog! Everything is still peachy in Peachy's world!!
Take care!
Amy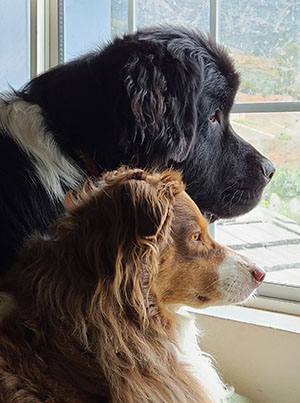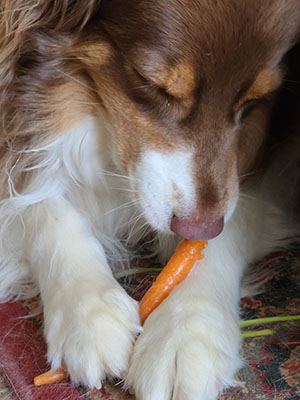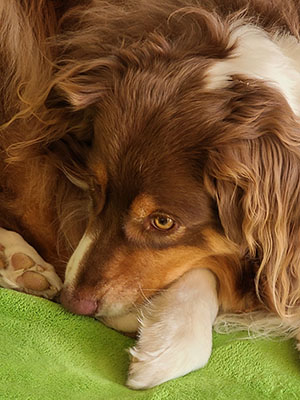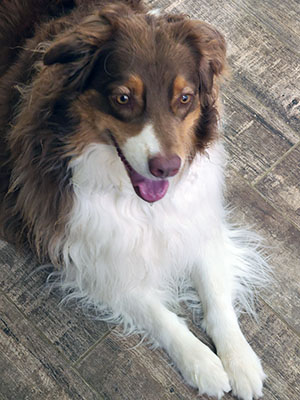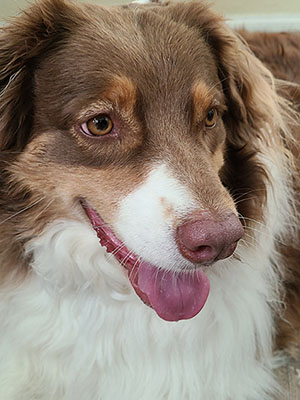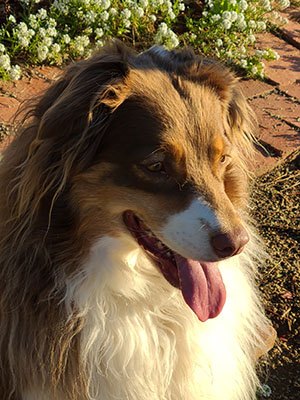 ---
4/17/21
Hi Kitsy,
Hope you are doing well. I wanted to give you an update on our boy.......
Sailor (Sutter X Winter 10/15/19) is a year and half now, he is 55 lbs, beautiful and full of Aussie energy and sass. He is doing very well in obedience and agility training (he learns quickly). He is good natured and is friendly with people(really good with kids) and other dogs. And of course he can be quite stubborn. He has grown into a very affectionate, loyal and protective companion. We look forward to many more years of adventures.

Here are few pics of our beautiful boy
Sincerely,
Jan and Jim Clark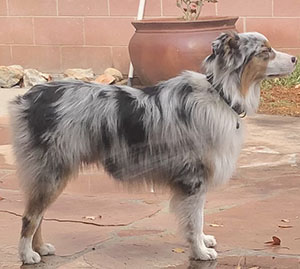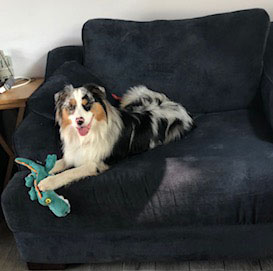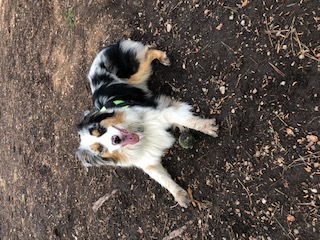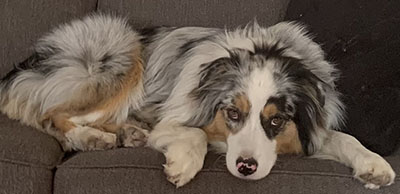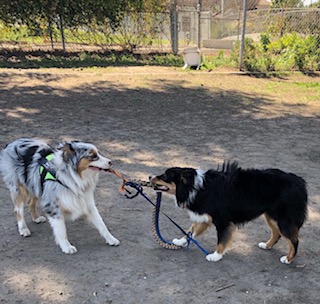 ---
3/6/21
Hi Kitsy!
It's been a while since we've sent an update on Chase (Loretta X Sutter 2018) so we figured it was about time! We hope you've been doing well in these crazy times.
Chase is about 2 and a half now and has really developed into a great adult dog. He's a very healthy 55 pounds (just like his dad!) and has calmed down a bit from his puppyhood but still manages to impress us with his energy. He still has a great personality and we couldn't ask for a better dog! We've found that he loves hiking more than about anything else in the world and have tried to do as much of it as possible with him as a result (bonus points for snow also!).
This past year we've also been amazed at how adaptable and confident he is - we've been able to drive cross country with him and back without any issues. He's always been happy to see new places and experience new smells and we couldn't be happier with that part of his personality!
I've attached a few pictures so you can see how much of a handsome dog he's become!
Cheers,
David, Daphne, and Chase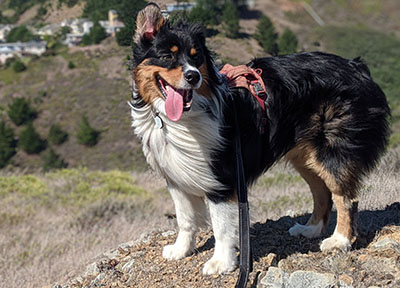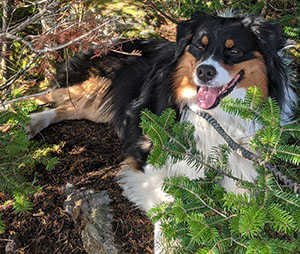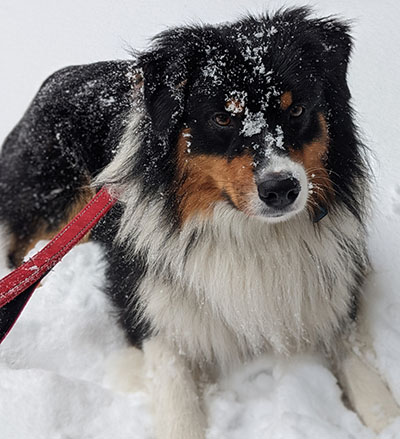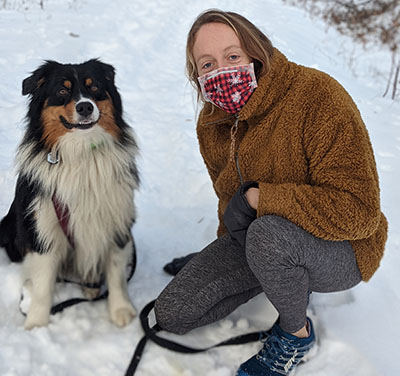 ---
3/1/21
Hi Kitsy
We sure hope you are doing great. Blue is doing great! He will be one on 3-8-21.
He is so fun! He loves to play, smile and talk. By coincidence, our friends the Meyers family are soon to be parents of one of your pups, Oreo. Thank you Kitsy for all you do with getting families together with some great pups.
Warmest,
April and Mark Avila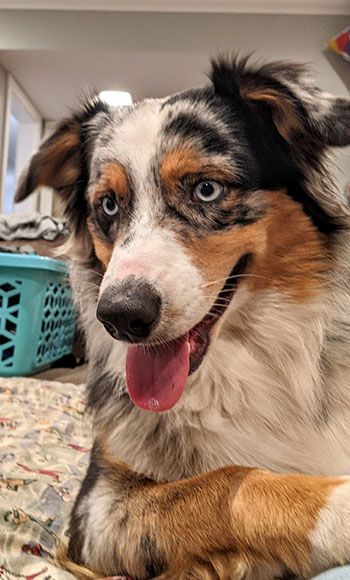 ---
3/1/21
Hi Kitsy,
We wanted to give you an update now that our handsome boy Buddha is a year old! (Jinx x Ransom 2/13/20) He is an absolutely smart and silly pup who loves to run, jump and play. He learned many tricks within days of coming home and potty training was a snap! Everyone who meets him loves his happy and energetic personality. Buddha went on his first ATV ride during our vacation in Utah last July and did incredibly well! We're due to have a baby in the summer and we have no doubts that he will be a great older brother. You were right, he has the exact same stunning light brown eyes as his mom, Jinx :) Hope you and your family are well!
Best regards,
Erin & Matthew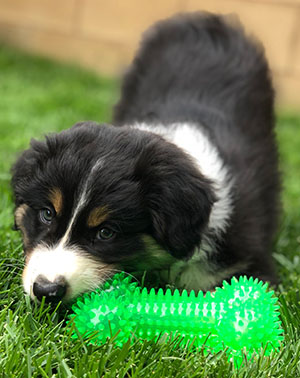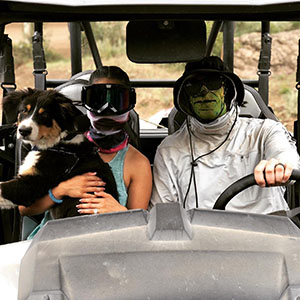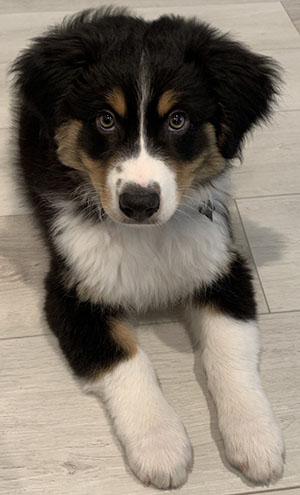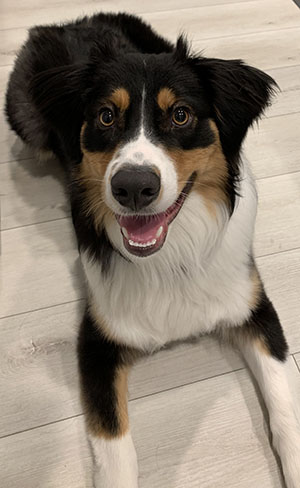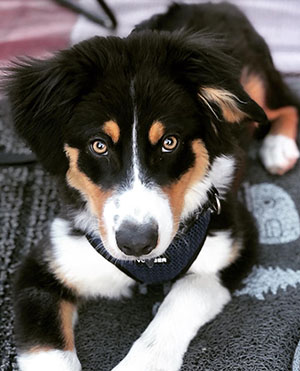 ---
1/29/21
Hi Kitsy
Thought I would send you a little note as today is Chloe's (Kindle x Sutter, 1/29/2020) first birthday! In the last year Chloe has become a truly integral part of our little family going nearly everywhere with us. She also completed her therapy dog training class and passed her AKC Canine Good Citizen exam and we can't wait to start volunteering!
On Wednesday we are heading off on a road trip to park city for her to play in the snow and are so excited to watch her experience that for the first time. She will play fetch for hours, constantly sleeps on her back, always brings you a toy as a gift, and loves swimming, playing in the hose and morning snuggles. We are freequently stopped for people to meet her and often told that she is the most beautiful dog they have ever seen!

I don't think we could have ever even dreamed of a better dog, she is sweet and funny and sassy and makes us laugh every day!

Grateful,
Jesika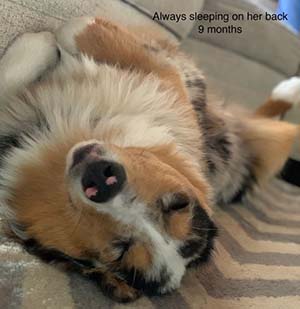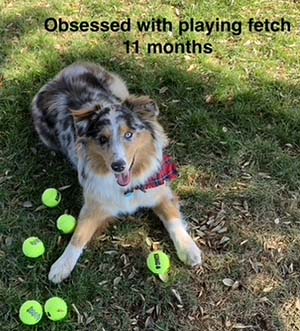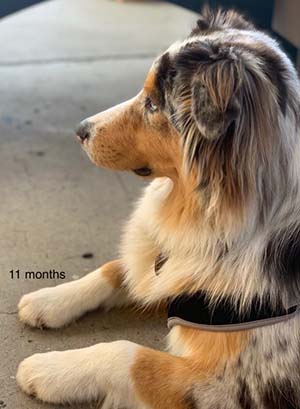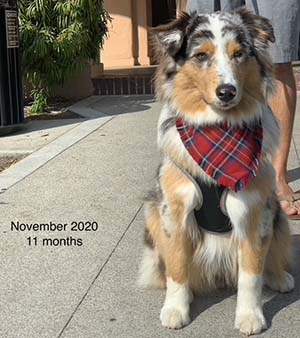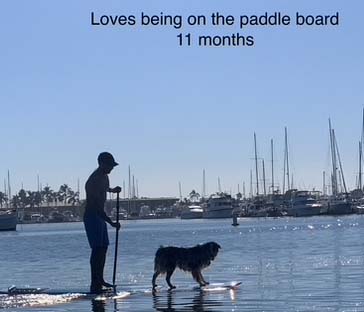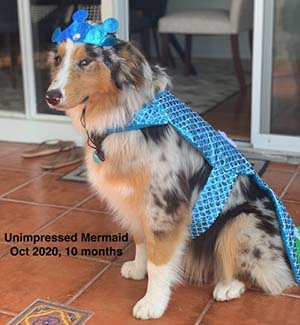 ---