2006 Testimonials from the happy owners
of OLD WEST
puppies
These are the testimonials and emails from previous puppy buyers. We LOVE to hear about our puppies in their new homes. IF you have an Old West puppy and would like to let us know how he or she is doing, please email us. We love seeing pictures of our kids as they grow up with their new families. Please click on the year at the bottom on this page for testimonials from each year.
---
12/31/06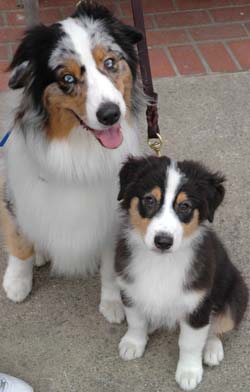 Kitsy,

Hope things are good with you and the dogs.

Here are some pictures of the boys. AJ is from Torie and Wrangler's litter (12-25-04) and Jake (the black tri) is from Cinder and Wrangler's litter (5-12-06). They are great dogs. AJ has helped train Jake (what we have done). Jake loves his big brother and follows him everywhere. AJ thinks he is a great play toy. The one picture is from our trip to Cambria and they were wonderful on the trip. The trip was in August. We will be taking another trip with them shortly, probaly to San Francisco.

Is Tori bigger then Cinder? It appears that Jake will be smaller and wider than AJ, but AJ is a tall, big dog. Their personalities are totally
different. Jake is calm and reserved where AJ is social and much more active.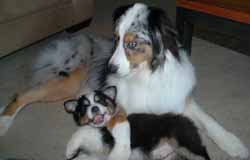 They are great and we couldn't be happier.

Matt and Missy Bright
12/24/06
Just wanted to give you an update on your little girl #1... Keeper is growing like a weed, wags that little tail constantly, has learned to sit and take her treats kindly, lives for running after her boy, plays soccer just as Gunnar had hoped, loves tug-of-war and wrestling with her big dogs. We love her dearly, and are really enjoying her 'little' time, when we can still pick her up and cuddle her!
We met her 'big' sister Olive at the vets for boosters a few weeks ago - Keeper has caught up in size! We immediately recognized her as one of yours. We have seen other Aussie litters, but these girls were obviously sisters. It was nice to sit and chat with her owner (your sister-in-law? I remember she said you were related!)
And the kids stumbled upon this website... we had no idea your Aussies had the rare 'dance' gene...
Take care, keep warm and Merry Christmas!
The Jaffarians
12/17/06
Hi Kitsy: I wanted to give you an update on Hurley (born 12/4/04) and Roxy (born 6/4/05). But there's one additional piece of news before I begin. We now have Roxy's sister Bella (6/4/05) as well! Bella's original owner could not keep her as his goat was very jealous and became physical with Bella. The owner was my girlfriend's father. She told me the news and I decided I wanted to help find Bella a good home. Long story short... within the first hour I realized that she had already found her new home. Yes, we have three! We officially have a pack of dogs and we love them all!
I get so many compliments on them from their looks to their wonderful dispositions. My husband has been named Santa Claus as he runs the three dogs 6 miles every morning. No one can believe how well mannered they are as they take their morning run.
We do our best to spoil them daily. We run them, take them to the Sports Park here in the a.m. where about 8 of us meet daily to socialize the dogs. They go on hikes with us and short trips to Target etc. They are an integral part of our family.
We want to thank you for providing us with these wonderful additions to our family. I can't imagine life without them!
Here are several photo's of the pups!
The Espinola's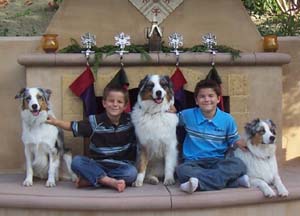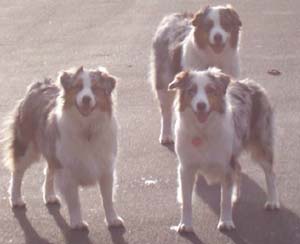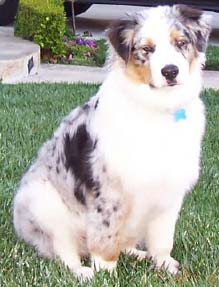 11/4/06
Just wanted to give you an update on your tri color female #1, or Keeper as she is now known... She rules the roost, is mothered by our Irish Wolfhound, and plays with the 'grandma' mutt. She is just a doll, such a wonderful personality. Loves playing chase with her boy. She's signed up for her first obedience class in January. Attached are a few pictures of the dogs and their kids. Gunnar is just smitten!
Erin Jaffarian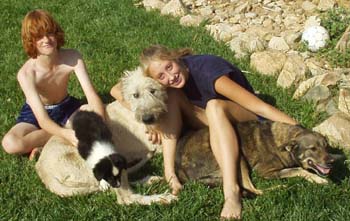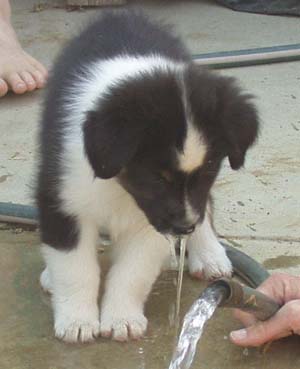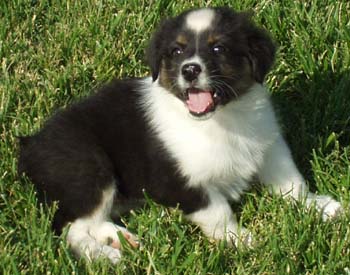 5/19/06
Kitsy:

My 20-month boy Diego is doing great. This webpage shows hot-load helicopter training session photos from a workout earlier this year: http://dbblackman.googlepages.com/home

We are making good progress in our quest to become a wilderness area search dog (mansearch). Diego is noted for his strong prey drive and exceptional
friendliness with people. Maybe by the end of the year he will become Mission Ready.

Daniel Blackman
Piedmont, CA 94611
4/12/06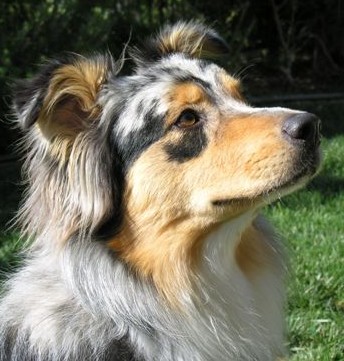 Hi,

Here are pictures of Murphy, now that he is 2 years old. He is a great dog and we have lots of fun with him. He is from the litter of Wrangler X Mikayla.

Just thought you would like to see him all grown up!

Lucie
4/3/06
Hi Kitsy,

Here is a picture of Toby's win yesterday. He now has 13 Points, with all of his majors! The judge was senior breeder judge Carol Ann Hartnagle of Las Racosa Aussies in Colorado. His next show is Memorial Day, so hopefully he will win one for his title.
Hope you are doing well.
Ursula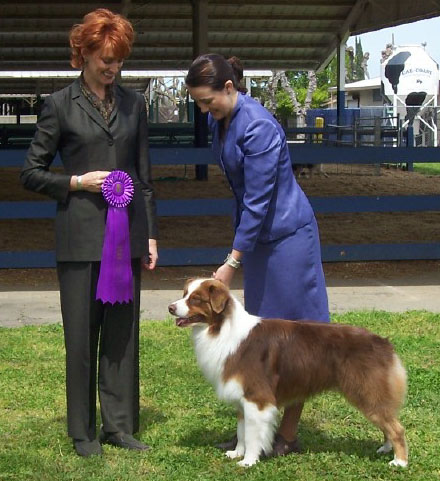 3/8/06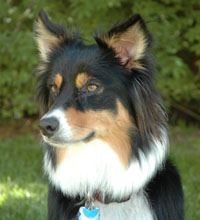 We wanted to again thank you for providing us with such a wonderful addition to our family. Blaze (Mikayla X Wrangler 2/25/04) is almost two. You have done something very special in breeding this Aussie girl. She has the sweetest disposition, is very sociable, and loves everyone she meets especially children. She is incredibly expressive and understanding of what we want or say. She has lots of energy when needed but is just as happy to lay at your feet if we need to attend to other business.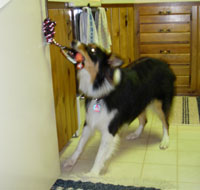 She is very smart, eager to learn new tricks and she loves to "work". She is very helpful around the house picking up laundry and putting it in the laundry basket for us. She will open the fridge and bring a can of soda or a half gallon of milk when asked. She will get my slippers or the paper and bring them. We can give her a bag with something in it or with something written on it and she'll take it to the person you ask her to. She is capable of being off leash under any circumstances and will do what ever is asked of her. She loves to hike, swim, run in the snow,or play with her "lucky dog" or throw ring. She is truly a unique animal who continues to awe us daily with her amazing spirit. I hope you enjoy the attached photos of this beautiful Aussie!
1/20/06
Hi, Kitsy,
I just wanted to let you know how Noah (Mikayla x Wrangler) is doing. He is a wonderful dog, and such a clown! He's also very smart and a joy to train. He'll be two next month, but he continues to mature and change. His latest trick is air-snapping while "puppy rugging", which of course I think is adorable. He's also very sociable with all of our guests or when we are in public, but loves to bark his head off when the mailman comes to the door. He's great with the boys, and he sleeps most of the night on my oldest son's bed. He does require adequate exercise or we know it (something (or things!) shredded to pieces in the middle of the night!), but his requirements are by no means excessive.
I'm sorry to read on your website that John past away, and I hope that you are getting on okay with the entire ranch as your responsibility. My own husband has been diagnosed with cancer, so our lives have been somewhat chaotic over the past three months. Noah has been a great source of comfort, and I did take him to the hospital grounds for a "visitation" during Kirk's last hospital stay. Noah is such a joy, and I want to say "Thank You" for breeding such great puppies.
Regards, Michelle Radmore