2017 Testimonials from the happy owners
of OLD WEST
puppies
These are the testimonials and emails from previous puppy buyers. We LOVE to hear about our puppies in their new homes. IF you have an Old West puppy and would like to let us know how he or she is doing, please email us. We love seeing pictures of our kids as they grow up with their new families. Please click on the year at the bottom on this page for testimonials from each year.
---
5/20/17
Hi Kitsy:
I've attached a couple of photos at the USDAA Cynosport World Games of Mayday from last November 2016. She had recently turned 3, and she's just a joy to be around. I had qualified her for the event in Performance Grand Prix and Performance Speed Jumping in just a few shows during the summer. Then before the event I sustained an injury and became to lame to run, so a friend of mine who was going with her own dog stepped in for me and showed Mayday. It was amazing that she ran so successfully with someone she hardly knew. She really loves the sport, and we refer to her as the "flying aussie" as you can tell from the pictures. She made the semi-finals in both events, and just missed making the finals in Grand Prix. This past weekend we attended the So Cal Regionals where she made the finals in Speed Jumping.......she was the only non-Border Collie in the final. We are mostly this year concentrating on AKC competitions. I am just now back running her myself (mostly), and I'm hoping to stay healthy and to getting her qualified for next year's AKC Nationals. Also know that our other aussie, Bill, is doing fine as well. I'm just now starting him over some obstacles, and if he likes it enough I may go on with him and see if he wants to compete too. He doesn't show the same agility prowess as Mayday, but he loves to work for food, so we'll see. The new litters of puppies on your website are adorable, as always. I might be ready for another in a year or two:) Have a great summer,

Vicki E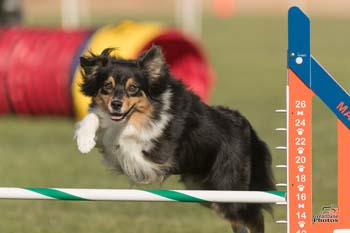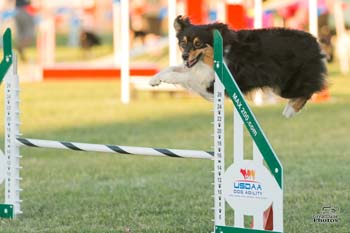 ---
3/23/17
Hi Kitsy!
Here are some recent pictures of Peachy (Ransom & Jinx, 5/05/16). She's really looking a lot more like her mother now. Peachy loves to have fun and of course is full of mischief! Can't help but smile when she's around.
Hope all is well with you!
Anthony & Amy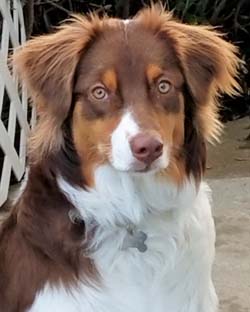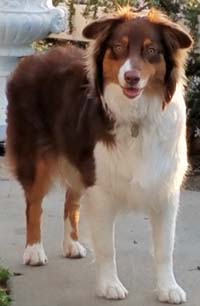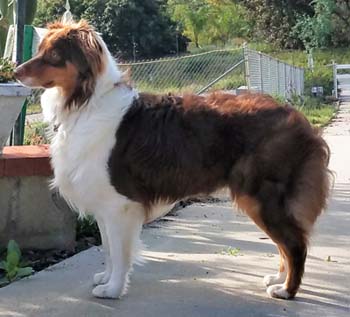 ---
2/23/17
Hi Kitsy!
Here's an update on Zephyr! He's 9 months now, getting so big, just over 50lbs! He's about to graduate from obedience training! He continues to surprise us with how smart he really is (not sure who is training whom sometimes, haha!) We couldn't be more grateful to you for how incredible he has made our lives, thank you so much. Zephyr loves going on adventures, hikes, playing at the beach, and endless amounts of cuddles. River and Zephyr, LOVE getting together, they will always be the best of bros. Here's some photos from 4months to now!
Kaylin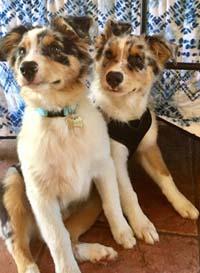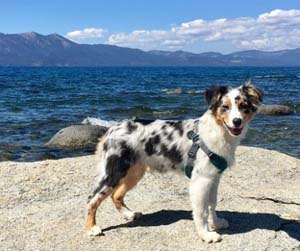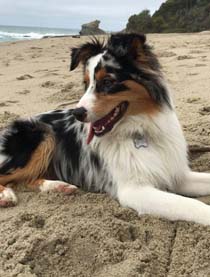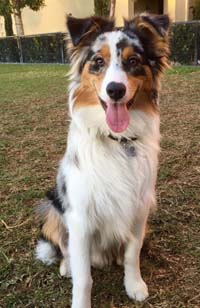 ---
2/16/17
Hi Kitsy,
I wanted to update you on Sterling, (Bella and Ransom litter 2/16/16). She is such a wonderful dog. People stop me where ever we go not only because she is beautiful but she has such a sweet personality that even people who are "not" dog people are won over by her. She is working on her CGC and now that she is officially one year old will soon be certified as a therapy dog. Though she already does that job well.
We could not ask for a sweeter dog and except for a few little weird hangup she dislikes, brushes and car rides, she is not afraid of anything. Marcus, her older brother, (Ransom and Primrose, 10/14), came for a visit a couple months ago. I could not believe how similar they looked but all their mannerisms.
I hope all is well. I have been sending people your way.
Wendy Hart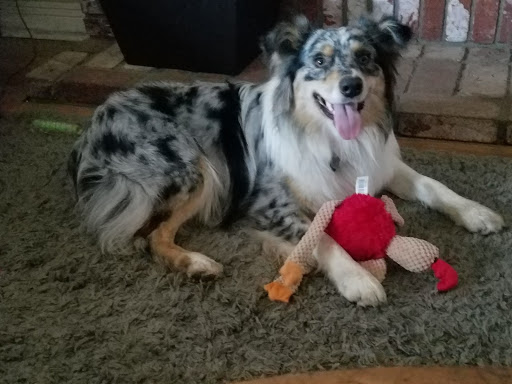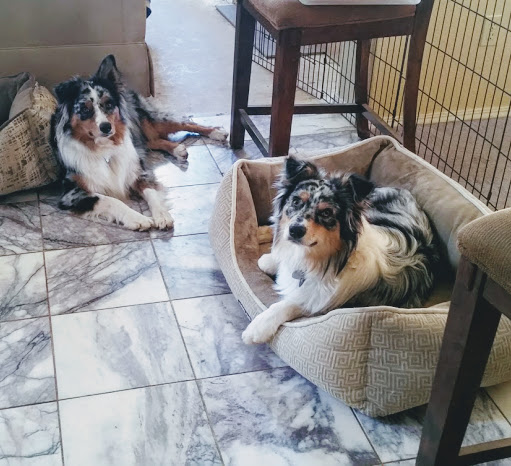 ---
2/14/17
Hi Kitsy,
We wanted to give you an update on Bode (Wrangler x Cinder 12/15/05). He just turned 11! He still thinks he is a puppy (and everyone else we meet thinks so, too), but he is starting to pay the price on the day(s) after a big hike. So, we've got him in a glucosamine regimen and a senior diet; those seem to help. We rescued a cat a couple of years ago and they are basically inseparable. I've attached a few recent photos. The fire engine picture is on his 11th birthday (notice festive birthday/ Christmas scarf). He is still soooooo cute!!
Devin and Shana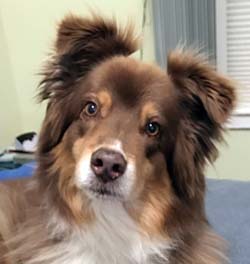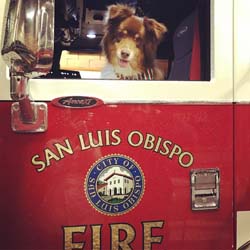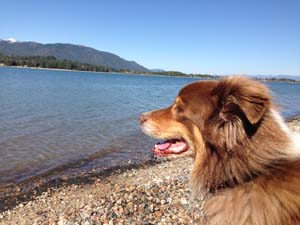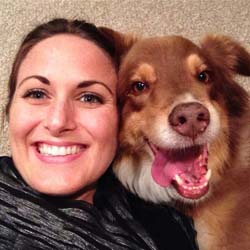 ---
1/23/17
Hi Kitsy!
Just wanted to send you a couple of pictures of River (born 5-5-16). One of them includes his brother Zephyr from the same litter. They have been able to play a lot over the last few weeks and LOVE seeing each other (we love it too when they are able to get some of that energy out!) We love our little man so much..he is truly the greatest dog!
I'll send some more pictures soon!
Jenna, Kevin and River Rice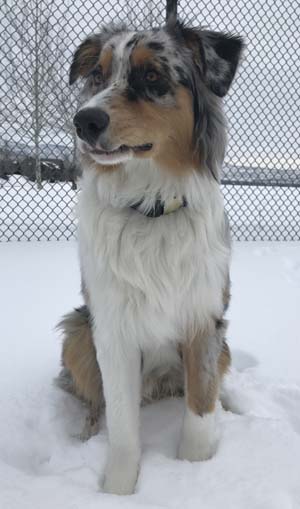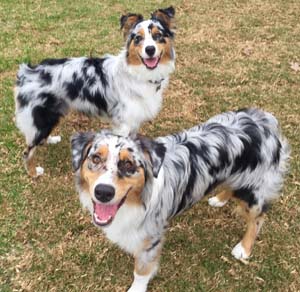 ---
1/1/17
Kitsy
I purchased a puppy from you this year. It was from Primrose and Ransom born on 5-5-16. Just wanted to send you a picture and let you know he is the best dog anyone could ask for. Thank you very much again for this dog. He has brought a lot of laughter to our family with how silly he can be. He is great with my wife and loves to have fun with the kids. It is amazing how smart he is too.
Thanks,
Ryan Kieffer